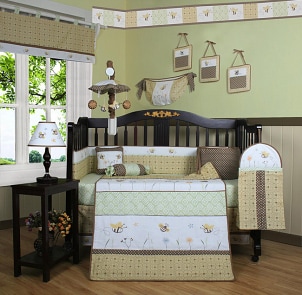 Parents need to invest in a baby furniture crib set before their newborn makes his initial appearance. Having a baby furniture crib set already installed will help prevent unnecessary stress and allow parents to be as prepared as possible for their newborn. Experienced parents will tell first-time parents that a crib is the most essential item on a baby furniture list. The best way to make sure you have all the necessary items for a new baby is to invest in a crib set. Below is a list of possible baby furniture items needed to complete your crib set.
Buying Baby Furniture Crib Sets:

Crib: Cribs are must-have pieces of baby furniture, and a crib should be one of the first things parents purchase for their baby. Cribs are heavy and sturdy stationary beds that usually come with adjustable railings. Crib railings will keep your baby from rolling, climbing and falling out of the bed. Before placing your baby in the crib, make sure the bed joints aren't loose and that there aren't any nails or screws poking out which could cause injuries. When properly cared for, a crib can last for many years. Parents should avoid drop-side cribs because they pose a risk to infants and were banned by the U.S. Consumer Product Safety Commission.

Bassinet: An alternative to a crib, at least for your baby's first few months of life is a bassinet. A bassinet is a lightweight, small bed which is ideal for newborns. Bassinets usually come with wheels, which makes it easier to transport from room to room. Most parents keep the bassinet in their room for the first few months to keep the baby closer to them for late night and early morning changings and feedings. A bassinet is smaller than a crib, so one is safe to use as long as the baby is below a certain weight and cannot roll over yet. Once a baby can roll over, it's time to move him into a nursery crib for safety reasons.

Drawers: Drawers are another essential item in baby furniture crib sets. Babies are small, but they need a lot of clothes, diapers and wipes. Organized drawers make it easy to locate baby items quickly, and keeping baby items in drawers helps to keep the nursery clean and clutter-free.

Changing table: Changing tables should be a secure place to change a baby, so it's important to make sure that the changing table is sturdy. Many changing tables come equipped with safety railings. It's important to double-check that the changing table is big enough for the newborn and that it's at the right height for the caretaker. Some changing tables come with drawers so everything needed is within reaching distance.

Buy Cribs
Back to Guides Directory