Baby Furniture Buying Guide
by Stephanie Petersen
Published April 28, 2010 | Updated February 17, 2015
Welcoming your new baby into your home is a joyful time, one made easier with the right baby products. With all the baby furniture available, you may need a little help deciding which pieces your baby needs. This baby furniture buying guide will help you understand the options you have, so you can decide which baby items will make life with your baby the best it can be.
Baby Furniture Checklist: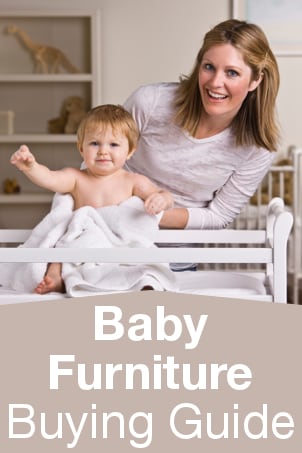 Shop Cribs ▸
Cribs:

Unless you plan to co-sleep, the crib will likely be the center of the nursery. Cribs often set the style for the rest of the room. Which one will inspire your perfect nursery? Sleigh cribs are a very popular choice. Their sloped posts and sculpted design add a classic style to a room. Contemporary cribs have cleaner lines, which create a fresh, minimalist backdrop for a neutral color palette. You may want to invest in a convertible crib; these convert into a bed, so you won't have to go through the shopping process again in a few years. For more information about convertible cribs, consult our guide on the best reasons to buy a convertible crib.

Bassinets and cradles:

For the first three months of infancy, a crib may be too big for your baby, and you'll want to keep him close during the night. Bassinets and cradles are perfect for this time. A bassinet can fit right next to your bed, which many parents find ideal, especially when their little one is still especially tiny. Many traditional cradles are built on stands, so you can easily rock them back and forth. Another similar option is a Moses basket, which can be situated in your bed and easily moved from room to room, so you can keep a napping newborn near you.

Storage:

You may not consider nursery storage until you get the piles of baby shower gifts home. In addition to a dresser, consider shopping for closet organizers, bookshelves, hampers, and toy boxes. If you're short on space, look for creative solutions. Changing tables with drawers and shelves provide space for diapering essentials, while tall bookshelves with colorful canvas boxes allow you to store or show off your child's things.

Changing tables:

A changing table isn't necessary, but it is extremely convenient, particularly when your baby is a newborn. If you have a C-section or are generally having a slow recovery from childbirth, you'll enjoy not changing diapers on the floor. Some parents choose to forgo the changing table in favor of changing diapers on the bed, which often leads to a laundry problem. In addition to giving you a safe and comfortable place to change diapers, a changing table offers storage for all your diaper-changing supplies and can add to the style of the nursery.

Rocking chairs:

A rocking chair or glider is a welcome sight in the middle of the night. Have a seat, rock your baby, and relax during feedings. Rocking chairs offer a vintage style option, while gliders, especially those with brightly colored upholstery, are quite contemporary. Add an ottoman for even more comfort.