Baby Bedding Buying Guide
by Staff Writer
Published April 28, 2010 | Updated July 30, 2015
When you're preparing a nursery for your new baby, the easiest way to start decorating is with the baby bedding. Once you have the bedding, you can easily decide what color to paint the walls, which wallpaper to hang, and what furniture to buy. This baby bedding buying guide will help you figure out which pieces you need for your baby's nursery, so you'll know exactly what to add to your baby registry.
Baby Bedding Options: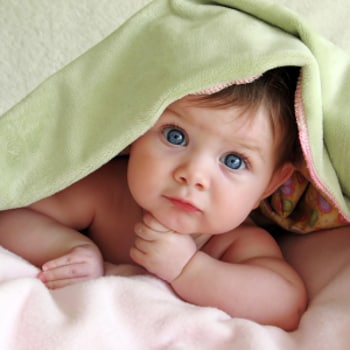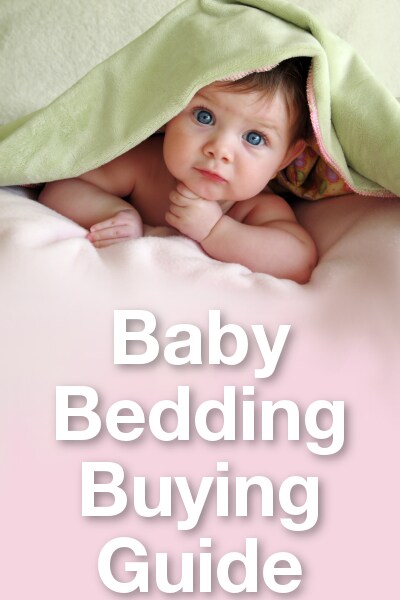 Shop Baby Bedding ▸
Crib Sheets

Baby bedding typically doesn't include a flat sheet, only a fitted sheet. Fitted crib sheets usually come in a standard crib size, but if you're using a non-conventional crib (like a round crib) or a bassinet, you may want to measure the size of the crib mattress before you shop. You should make sure that your fitted crib sheet fits your crib mattress like a second skin. It should not be loose or bunchy. It's a good idea to have two or three fitted crib sheets on hand, so you can change the bedding immediately if there is a diaper accident. If you have more questions about baby sheets, be sure to read our answers to frequently asked questions about baby bed sheets.

Mattress Pad

Most baby bedding sets do not come with a baby mattress pad, but it is recommended that you buy a couple of mattress pads to protect your crib mattress from unavoidable accidents. Your mattress pad should be no more than one inch thick and should fit snuggly under your fitted sheet.

Baby Blankets

Comforters and baby blankets are great for decoration and can add a lot to the look of your nursery, but remember to always take the baby comforter out of the crib before laying your baby down to sleep or nap; the same goes for all soft bedding, such as throw blankets, pillows, or stuffed animals. It's much safer for babies to sleep without a comforter or blanket to avoid suffocation hazards.

Babies Sleep Safe with Wearable Blankets:

Since loose blankets aren't considered to be safe for infants, wearable blankets have become the new choice of parents. Cozy swaddling blankets are made with easy closures, so you can wrap newborn babies up tight, giving them the feeling of being in the womb. Once your baby wants to move her arms freely at night, look for zip-up blanket sacks, which are almost like sleeping bags with arm holes. Your baby will be warm and covered up all night long, and you can rest easy, knowing that she is safe, too.

Crib Bumpers

Designed to prevent your baby from rolling into the bars of the crib, crib bumpers keep your baby safe from bumps or bruises. If you choose to use crib bumpers, make sure they're as thin, breathable, and mesh-like as possible to reduce the risk of suffocation. When your baby gets big enough to stand up in his crib by himself, then it's time to take out the crib bumpers, as they can be used as a stepping stool for your baby to climb over the side of the crib.

Crib Skirt

A crib skirt gives your entire nursery that completed look. Crib skirts are especially nice if you opt for minimal crib dressings. Crib skirts create a cozy, inviting look while simultaneously creating an inviting visual effect and hiding any under-crib storage you may have.

Some Baby Bedding Sets May Include:

Wall Hangings

Most wall hangings included in baby bedding sets are made of quilted fabric in shapes or forms to match the theme of the set. These soft, quilted pieces of artwork are a much safer option than hanging a framed piece of art or other heavy object over the crib.

Window Valances

Window valances let you bring the crib decor up to the windows. Most crib sets only come with one window valance, so if your nursery has multiple windows, you may want to purchase extra valances separately. Make sure to check the measurements of the valance against your window measurements to make sure you get the right size.

Mobiles

Hanging a mobile over the crib is a great way to add a finishing touch to your nursery decor while at the same time giving your baby something entertaining to focus on. Make sure you hang the mobile high enough that your baby can't reach it but not so high that he can't see it. Mobiles stimulate your baby's senses and help with visual development and recognition.

Diaper Stacker

Some baby bedding sets come with a matching diaper stacker that can be tied to the side of the crib or the changing table. If you choose to tie the diaper stacker to the side of the crib, make sure to remove it when your baby gets big enough to stand in the crib and is able to access the diaper stacker.