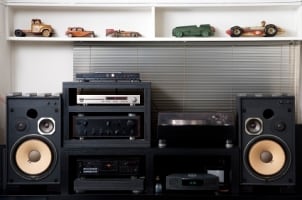 Your dream sound system usually won't be put together overnight. You can carefully select new audio and video components, one at a time, until you have a home audio setup that gives you precise control over your music and fills your space with crystal clear audio.
Sound System Additions:

Amplifiers and pre-amps: Devices like speakers, which produce sound, have an amplifier that supplies power. The pre-amp or amplifier takes an audio signal, duplicates it and sends it to the speakers at a higher power. If a recording has very low signal or a lot of distortion, a pre-amp can strengthen and clarify the signal. Then the amplifier will power it up to the power level of your speakers.

CD players: Having a multi-disc CD changer is like having a miniature juke box connected to your stereo. Because they're digital, CDs provide clear audio and allow you to easily switch between tracks or search through songs. If you like to make mixed audio recordings of your favorite songs, look for CD recorders that allow you to use CD-R, CD-RW or other recordable audio disc formats.

Tape decks and turntables: If you still have old audio cassettes and vinyl records, you can still enjoy them with the right audio components. Vinyl is actually making a comeback because of its warm analog sound quality when compared to digital music sources like CDs.

Equalization (EQ) filter: With an EQ filter connected to your audio system, you can adjust audio levels to emphasize certain frequencies, improve the overall audio experience or create unique music recordings. The benefit of an equalizer is that you can adjust individual levels without affecting other audio frequencies.

iPod and MP3 Players: A docking station will allow you to connect your MP3 player to the rest of your audio system. You can also upload/download music between portable players and your home system. Check your audio receiver and other components to see what types of connections are available for MP3 players.

Radios: AM/FM radios are still the best way to listen to your local broadcast stations, and it's likely that one or more of your audio components already have a built-in radio tuner. You may even want to look for audio components with satellite radio options. Satellite radio features hundreds of digital audio streams, many of which are commercial-free.

Buy Audio and Video
Back to Guides Directory