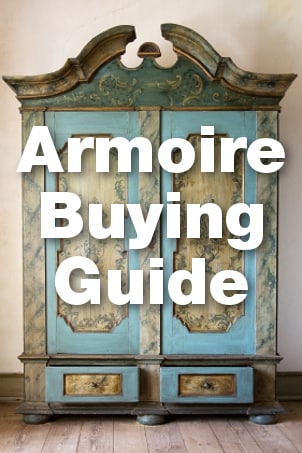 SHOP ARMOIRES NOW >>
Whether you are looking for a place to set up a small home office or you need a place to store your jewelry, armoires are the perfect choice. Anyone who likes to feel like their things are closed away will appreciate that armoires allow you to close the door on clutter. Before you choose which armoire is best for you, you'll want to get to know with your options. There's one for almost every room in the house.
Where to Use an Armoire:

Wardrobe armoires: Wardrobe armoires will you give additional clothing storage in your bedroom. They can even stand in for a closet if you don't have one, or they can replace your dresser. If you plan to hang clothes in it, make sure the armoire you choose has a rod for hangers. Most wardrobe armoires will also have a few drawers for folded clothes and maybe even a few shelves. Before you choose one, consider how much clothing you want to store in it and if you want it to hang or go into a drawer, so you can buy the one that has the right amount of storage. Choose one that coordinates with your other bedroom furniture to create a cohesive look.

Entertainment armoires: With an entertainment armoire, you have the ability to "put the television away," which is perfect for a TV that you keep in your bedroom or in a living room where you also entertain guests. Make sure to measure your TV's screen before you choose an entertainment armoire to make sure it will fit. Note how many peripherals you want to keep there, too. If you have a cable box, a DVD player, a video game system, and stereo receiver connected to your TV, you'll need an armoire with enough shelving for it all.

Jewelry armoires: A practical, space-saving alternative to a jewelry box, jewelry armoires also include a door-mounted or hidden mirror, allowing you to make sure your accessories look perfect. Originally, jewelry armoires were just miniature chests of drawers with standing mirrors, but the term is now also applied to modern wall-mounted jewelry cases with mirrors and lockable doors. Whichever style you choose, jewelry armoires make unique, beautiful additions to a room while keeping jewelry safe, secure, and organized.

Computer armoires: Computer armoires, like entertainment armoires, allow you to close away your electronics when you want to relax, making these the perfect desks for multipurpose rooms. Computer armoires often combine aspects of the desk with armoire storage and sliding tray drawers to make the most out of the space.

Shop Wardrobes Armoires
Shop Jewelry Armoires
Shop All Bedroom Furniture
See All Guides
Read More Furniture Guides
Learn More about Bedroom Furniture
Published April 28, 2010
Updated February 5, 2015