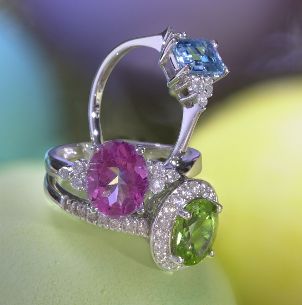 Gemstones have long been thought to bring a person luck. On your anniversary, they're also a great way to show the special person in your life how much you care. In addition to gems, precious metals and specific pieces are associated with some anniversary years. Use this guide to choose an anniversary gift or a piece of gemstone jewelry for this milestone occasion.
Once you have determined which gemstone will be perfect for your anniversary, you might be wondering which type of jewelry to select. Gemstone jewelry is available in a wide range of styles. For a romantic reminder of your relationship that can be worn every day, look for anniversary rings. Gemstone necklaces, bracelets, and earrings can be extravagant for special occasions or casual enough for regular wear. Consider your loved one's wardrobe and style whenever you're shopping for jewelry gifts.
Some anniversaries are associated with a gemstone or precious metal and a coordinating celebration, called a "jubilee." Celebrate your 25th wedding anniversary with a silver jubilee, your 30th with a pearl jubilee, your 50th with a gold jubilee, your 60th with a diamond jubilee, your 70th with a sapphire jubilee, and your 80th with a ruby jubilee.
Anniversary Gemstone List:

What Do You Want to Do Next?

Shop Gemstone Rings
Shop Gemstone Earrings
Shop All Jewelry
See All Guides
Read More Jewelry Guides
Learn More about Gemstones