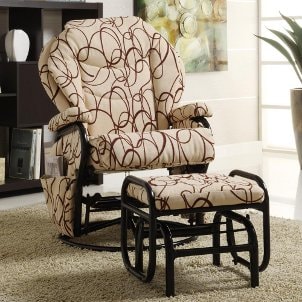 A new alternative to traditional rocking chairs is are gliders. With so many new furniture fads nowadays, it's hard to keep up with what's popular as well as practical. Gliders and ottomans are a new and upcoming piece of furniture fashion that accents and compliments any room's decor. They're a useful and comfortable piece of furniture that merits some serious contemplation. Below is an introduction to gliders and ottomans that will help you decide if they are right for you.
Information about Gliders:

About gliders. Gliders are an alternative option to a traditional rocking chair. They look similar, but instead of tipping back and forth like a regular rocking chair, gliders slide front to back in a single swift and smooth motion. Its soothing progression works perfectly when rocking kids to sleep or as a way for you to relax at the end of the day. Many gliders have an accompanying ottoman that also moves in conjunction with the glider.

Placing gliders. Gliders are convenient pieces of furniture no matter what room you place them in. Many customers who purchase gliders do so with the idea of nursery furniture in mind. The smooth swaying motion of the rocking glider and ottoman make it an ideal purchase for rocking a baby or toddler to sleep. Gliders and ottomans come in many attractive colors, making it easy to match nursery room colors and accompanying furniture. Gliders and ottomans are also ideal in the living room in front of a fireplace or the television set. You can sit in your glider at the end of a long and stressful day at work or after a hard day of play. Gliders can be harmed by excess heat and water just like any other piece of furniture, so be careful where you put them.

Styles of gliders. Gliders are usually made from wood and come with cushions for the seat, back and armrests. Most cushions are removable, which means you can switch out cushion styles and colors whenever you feel the need to redecorate without spending a lot of money. Most gliders come complete with ottomans, and the ottomans are designed to move along with the glider. The ottoman is not attached to the glider, making it easy and convenient to adjust the distance between the glider and the ottoman.

Buy Gliders and Ottomans
Back to Guides Directory