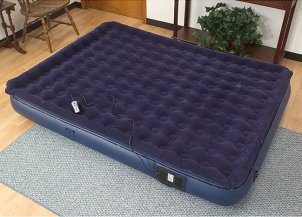 When it comes to entertaining out-of-town guests, the last thing you should have to worry about is where to house them for the night. If the thought of breaking out your leaky old air mattress or uncomfortable pull-out couch is causing nightmares, you may want to think about investing in a portable Air Cloud air mattress.
Buying an Air Cloud Air Mattress:

Air Cloud air mattresses: Air Cloud air mattresses are made of puncture-resistant PVC and inflate in under a minute with the press of a button, so you can spend more time making memories with your houseguests and less time getting acquainted with an air pump. To find an Air Cloud air bed that suits both your needs and the needs of your visitors, there are a few key things to consider.

Sizing it up: The Air Cloud air mattresses comes in two sizes -- full and queen -- so you may want to think about how much extra square footage you have available when purchasing a new inflatable mattress. By measuring where you plan to set up your new guest bed, you can avoid any unnecessary headaches when set-up time comes.

Weigh the options: Whether it's the in-laws or your grandchildren, Air Cloud air beds come in both a standard model and a raised option to accommodate everyone. While the standard chamber construction technology used on every Air Cloud bed can hold up to 650 pounds without sagging, shifting or shaking, there are still a few things to think about when finding the right height.

The down low: Standard Air Cloud air mattresses are low to the ground and feature built-in pillow-top mattress toppers that are perfect for kids who have a habit of active sleeping, as well as adults who want an adjustable firmness. If you're looking for a traditional air mattress with luxury features, the standard style could be a perfect match.

Taking it to new heights: The raised Air Cloud air mattress comes with a pillow-top option or without, so you can decide which option is right for you. If you're worried about cold drafts, the raised Air Cloud model is especially convenient. By raising your guests up, you can ensure that that they will get a warm night's sleep with extra support.

Compact storage, big design: With over 100 orthopedically designed comfort coils, the Air Cloud inflatable mattress with a pillow-top mattress topper feature uses a hand-held controller to provide the comfort of a memory foam mattress topper with the convenience of a portable bed that can be easily stored away. Whichever model you choose, you won't have to worry about how it will look. Air Cloud adjustable air mattresses have a soft, velvety sleep surface and can be covered with full-size or queen-size sheets to integrate seamlessly into your home decor and match other bedroom furniture.

Air Cloud on the go: When you purchase an affordable Air Cloud air mattress, not only will you be saving your guests from sleepless nights of tossing and turning on a partially deflated mattress, but you'll have peace of mind knowing that wherever you go, you'll have a full night of sleep ahead, too. Portable Air Cloud beds come with a lightweight duffel bag and fold up for easy storage, even in the tightest spaces, making it easy for you to take on road trips and camping getaways. When you're finished, the Air Cloud mattress deflates in less than a minute so you can get back on the road.

Get pumped: The Air Cloud's quick and quiet patented air pumps mean you can also break out the mattress for sleepovers and casual use, without spending hours trying to squeeze out the remaining air after the fun is over. Whether you're the host or the guest, you can rest easy knowing you'll save time and money on portable bedroom furniture with an affordable Air Cloud air mattress.

Buy Air Cloud Air Beds
Back to Guides Directory