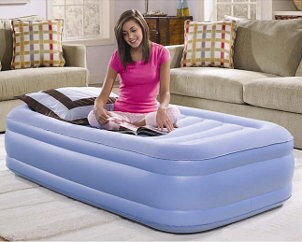 There are a lot of things you can lose sleep over, but finding the perfect air bed shouldn't be one of them. Unfortunately, many people find the process of air bed shopping complicated and end up purchasing a bed that doesn't entirely suit them. This air bed buying guide will help you figure out how to buy an air bed that will let you get the rest you deserve.
Buying Air Beds:

Does the term "air bed" evoke memories of sleepless campouts, leaky mattresses and lasting backaches? It's time to put those recollections behind you, as many of the air beds of today utilize quality components and the latest technologies to ensure plenty of comfort and restful sleep. The secret to finding an air bed that will make you feel like you're on "cloud nine" is a combination of three considerations: what you'll be using it for, what size you need and what additional options are right for you. Once you are able to determine these three factors, choosing the perfect air mattress for your situation will be a breeze.



Putting your air bed to use: Air beds are incredibly versatile pieces of bedroom furniture. Whether you need an air bed mattress for your home, apartment or tent, you're sure to find one that will suit your needs. Similar to other furniture, purchasing an air bed is largely about deciding what purpose it will ultimately serve.

The portability and ease-of-use of modern air beds makes them a popular choice for serious campers. When you're camping and hiking, there's nothing more comforting than knowing you will be able to get a luxurious night's rest with the help of an air bed at the end of a strenuous day. Whether you're planning a hardcore hiking trip or just a couple of days at the lake, you will find a bulk of air bed options available to you. If you are trying to decide between cots and beds, an air bed's risk of deflation should no longer be a concern, as air mattresses in current production make use of durable materials to ensure they stay inflated for your comfort.

While we would all love to be the ultimate hosts to our guests by providing full-fledged beds and mattresses to them, costs and space issues make that a difficult goal to achieve. Fortunately, air beds can now rival even the most inviting of mattresses, allowing you the flexibility and affordability you need while maintaining the comfort levels you want to provide for your guests. Look for air beds with pillow-top covers; they do an excellent job of mimicking a regular mattress.

If you currently live in or are considering living in an apartment or dorm room, don't discount the idea of an air bed mattress. With the possibility of a temporary living space and frequent moving, a lightweight air bed will be a total boon in comparison to a heavy mattress and bed frame.

Sizing up air beds: After deciding what use your air bed will be put to, it's time to decide what size of mattress you will need. Considering the size of an air bed should be similar to doing the same with a regular mattress, with a couple exceptions.

If your only concern for your air bed is how large it is, think about a queen-size air mattress. While this size of air bed will certainly consume more space than other sizes of air mattresses, it will provide you or your guests with plenty of room to unwind. Of course, a queen air bed that can hold more than one person will also save you time on filling up multiple air beds.

If you don't mind a little less room to stretch out on, twin-size air mattresses are space-saving, lighter options. Many manufacturers even make twin-size air beds that are sold in packs of two, allowing you the option of stacking for a bit of height, placing them side-by-side for a larger space or separating them altogether for two distinct beds.

Another functional option is the sofa air bed, which doubles as a seating option. If you're truly squeezed for space, this air mattress choice will work wonders. Sofa air beds are also great for kids' rooms, allowing a seat for movie watching or video game playing while making terrific beds for slumber parties.

Optional air bed features: Once you determine the size of air bed mattress you need, start thinking about the extra features you may be interested in. Some people prefer to keep things simple with a basic mattress, but if you want to get fancy, you definitely have options. For example, you could choose an air bed with built-in speakers and MP3 support to keep yourself entertained. One of the most popular options opted for with air beds is the pillow top. Pillow-topped air beds provide extra comfort that rivals even the coziest of mattresses. Another choice worth looking into is the remote-controlled inflatable air bed, which allows the user to adjust the amount of air in the mattress for maximum comfort.

Buy Air Beds
Back to Guides Directory