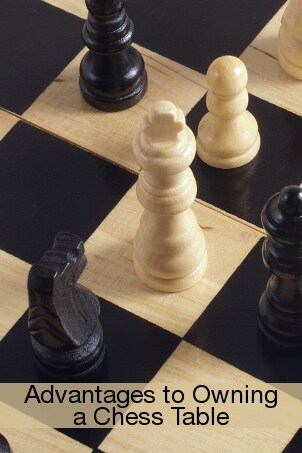 SHOP BOARD GAMES NOW >>
Chess, the classic thinking man's game, is one of the most popular games in the world. Chess games are played by millions of people: in clubs, online, at tournaments, in parks, and in coffee shops. Of course, one of the best places to play the game, or learn to play, is in the comfort of your own home; but should you buy a chess board or a chess table? While either choice is a great one, there are a few advantages to owning a chess table. Here are a few reasons you should have one in your home.
Reasons to Own a Chess Table:

Chess tables make great decorative accents. Unlike chess boards, which you normally would put away after each game, chess tables are designed to be part of a room's decor. When not being used for play, a chess table makes a great side table, or you can display the pieces on the game board and always be ready for a game. A brightly colored chess table is a fun addition to a child's play room. Place a classically styled table in a library, study, or den to give an air of sophistication to the decor. Or, indulge in an outdoor chess table, usually made of stone or other weather-resistant material, to enjoy a game in your garden.

They provide more versatility than chess boards. There are many different designs for chess tables. Some are designed with small drawers to store game pieces. Some even have cabinets where you can store other games or even snacks. Others have cup holders built in, so you can keep your beverage safe and at hand during a game.

You can leave games going. With a dedicated chess table that you don't have to put away, you can leave games going for days or even weeks. If you and your opponent like to think about moves and casually play whenever you have a minute, then you'll appreciate having a chess table with the pieces set up at all times.

Chess tables can last a lifetime. Whether you buy a chess table for use as a decorative accent in your library or as a fun addition to your game room, your table is sure to be appreciated by all your family and friends. A chess table can even be passed down to the next generation to be enjoyed, displayed, and cherished.

Shop Chess
Shop Checkers
Shop All Board Games
See All Guides
Read More Toy & Hobby Guides
Learn More about Games & Puzzles