Advantages of Owning a Pre-Owned Rolex
by Staff Writer
Published September 1, 2011 | Updated June 29, 2015
Whether you're rewarding yourself for the success you've already achieved or dressing for the future you plan to have, a Rolex watch conveys accomplishment. It can easily be the only watch you ever need to purchase. Rolex prides itself on creating precise instruments; by using enduring parts and fine details to create flawless movement and a striking appearance, the brand has made itself the ultimate emblem of style and status. Consider buying a pre-owned Rolex and enjoy the same watch at a fraction of the price.
Pre-Owned Rolex Advantages: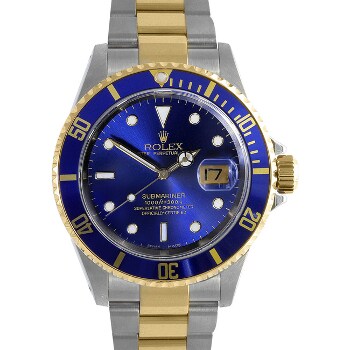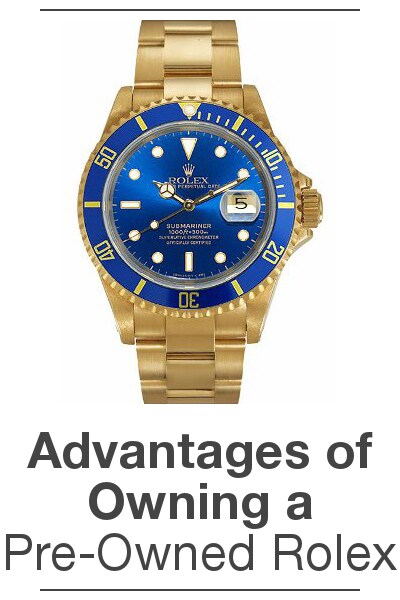 Shop Pre-Owned Rolex Watches ▸
Quality

While most watches are mass produced, Rolex assembles their watches entirely by hand, one at a time. They believe that the delicate process of watchmaking should be performed by skilled craftsmen using the finest materials available. Rolex watches use the same grade of steel that's used in the chemical industry, which is prized for its resistance to corrosion and its ability to provide years of flawless service. All pre-owned Rolex watches go through a full inspection by master watchmakers, including waterproofing, winding, and polishing. Every watch comes with a one-year limited distributer warranty, as the manufacturer warranty has expired. Pre-owned Rolex watches are repairable by the manufacturer, if you wish to pay for the service.

Authenticity

Pre-owned Rolex watches have a unique serial and reference number found by removing the watch band. The authenticity of your pre-owned Rolex is guaranteed and any watch is welcome to be inspected locally. These watches are in immaculate condition with no scratches and generally indistinguishable from new watches. Although your pre-owned Rolex will not come in an authentic Rolex box, it will come with detailed documentation stating a full description, list of frequently asked questions, serial number, model number, and a warranty certificate.

Innovation

New and forward-thinking ideas have always played a role in the Rolex culture. Since the early 20th century, Rolex has played a part in the development of watch technologies, including water-resistant cases, quartz and automatic movements, automatic date and time change, and the dual time-zone display. Rolex's enduring quality and timeless nature mean that even when you purchase a watch that's older, you know you're getting technology that will stand the test of time.

Price

Buying a pre-owned watch can be a solid investment. Buying a watch secondhand presents an opportunity for you to enjoy a significant discount on an elite product. Unlike a brand-new Rolex, a pre-owned Rolex will not depreciate immediately after your purchase.

Classic Style

While there are certainly times when having the latest-and-greatest watch is exciting, a pre-owned Rolex watch proves that classics are often desirable, too. Consider the Rolex Submariner, which is the watch that Steve McQueen wore and which appeared in many classic James Bond movies. This watch looks just as elegant today as it did when it was first made in the 1950s.

Value

Like vintage sports cars and fine wine, some Rolex models increase in value over time. Models made for professionals and extreme-sports enthusiasts, like deep-sea divers, mountain climbers, and pilots, tend to be the most highly sought-after watches. The Rolex GMT Master is the most popular model today. It was developed for Pan Am pilots to address the challenge of simultaneously keeping track of the current time in multiple time zones. Simply put, Rolex watches are designed to retain their value and become heirlooms over time. All pre-owned Rolex watches sold on Overstock.com are from 1990 or later; the exact year of manufacture can be difficult to determine, but a narrow year-span will be included with the documentation.
What to Expect When You Buy a Pre-Owned Rolex from Overstock.com:
Your pre-owned Rolex will arrive in full manufactured size. The bracelets are fully resizable (extra links are available for purchase through the distributer).
Pre-owned Rolexes with leather straps will come with a quality generic strap.
As with most watches, your pre-owned Rolex will have individual water-depth ratings as listed, but regular exposure to water is discouraged. Never take your watch into a hot tub or swimming pool, and never wear it during water sports.
Upon delivery, the package must be signed for. If you are not available to sign a note will be left. Customers can arrange for a pickup from their local UPS hub with photo identification, if they wish.
Every pre-owned Rolex will be shipped with a tag attached to the band and an insert explaining that the watch cannot be returned if the tag is removed or tampered with in any way.