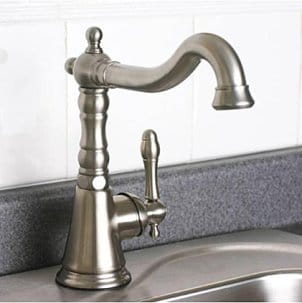 More and more people are installing bar sinks with bar faucets in their homes as secondary kitchen faucets, but if you've never used one yourself, you may think they're a little superfluous. While it's true that not every kitchen needs a new bar faucet, they can be a very useful addition to your kitchen. If you're thinking about upgrading your kitchen with a new bar sink faucet but you're not entirely sure whether or not it will be worth it, then keep reading for some information on the advantages of installing a bar faucet that may help make your decision easier.
Bar Faucet Advantages:

Bar faucets can provide instant hot water. Any bar sink faucet can easily hook up to an instant hot water dispenser, a practice that's becoming more and more popular in many kitchens. Instant hot water dispensers provide piping hot water, hot enough for tea or hot chocolate, straight out of the bar sink faucet without having to wait for water to warm up. If you often make tea or hot cocoa or if you simply like to have extra-hot water readily available, a bar faucet connected to a hot water dispenser is a great idea.

Bar faucets can provide cold, filtered drinking water. Bar sink faucets can also hook up to cold water dispensers and water filters, making them ideal for drinking water. While it's possible to hook your regular kitchen faucet up to a water filter, doing so usually reduces the flow of the water, which can be inconvenient. Bar sink faucets, on the other hand, have a small yet steady stream, perfect for filtered water. When you combine that with a water cooler, you can have cool, filtered water whenever you want from your bar faucet.

Bar faucets free up your main sink for other uses. Bar faucets are also sometimes called "prep faucets," and for good reason, since they're ideal for doing prep work when you're cooking, like washing vegetables. This works especially well if you have installed your prep faucet on an island in your kitchen, since you can wash and chop vegetables or meat at the island and rinse the food right there as well as at your bar sink. A bar sink faucet also makes it easy to grab a drink of water when someone is using the main kitchen faucet for something else.

Buy Kitchen Faucets
Back to Guides Directory