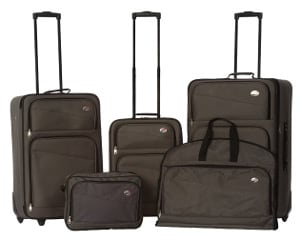 If you're shopping for new luggage, you'll want to research brands like American Tourister. Comparing well-known and fashionable brands of luggage will help you determine what features are important to you in luggage and bags and which brands are the most durable. American Tourister is a popular, durable brand of bags and luggage sets that is affordable, too. Keep reading this article to learn the other advantages of American Tourister luggage.
American Tourister Advantages:

Storage: Some luggage sets are cute and fashion-forward, but they can be bulky and otherwise difficult to store. Not so with American Tourister luggage sets. These bags almost always nest inside each other, so you can simply slide the large suitcase under the bed and not worry about your luggage until your next trip. Even the large American Tourister seven-piece sets store easily; the toiletry bags, duffels and garment bags collapse inside the smallest American Tourister bag, which nests inside the other uprights.

Packability: Being able to store your American Tourister suitcase when you're not using it is important, but being able to use it efficiently for vacations and business trips is crucial. American Tourister luggage sets are designed to hold everything you need to take with you when you're living away from home: Compression straps hold everything in place, and mesh pockets provide homes for shoes and small items. Removable toiletry kits make packing liquids easier than ever. Most American Tourister bags are also expandable, meaning you'll have plenty of room to bring home souvenirs for family and friends. Be careful that you don't overpack, though; many airlines charge more for bags that exceed weight or size limits.

Maneuverability: If a suitcase is difficult to maneuver and carry around, you'll be a lot less likely to use it. American Tourister suitcases solve this problem with high-quality wheels, retractable handles and padded top and side handles. Inline skate wheels are tried-and-true options for an upright suitcase, and spinner wheels are the current fashion that improves maneuverability. Sturdy retractable handles allow you to take advantage of these wheels, whether on the sleek, smooth floors of the airport or a bumpy sidewalk or cobblestone road. Top and side handles provide alternative carrying options when wheels aren't practical, as on stairs and curbs. American Tourister duffel bags and garment bags with adjustable padded shoulder straps are just as useful and easy to carry as their upright counterparts.

Buy American Tourister Luggage
Back to Guides Directory