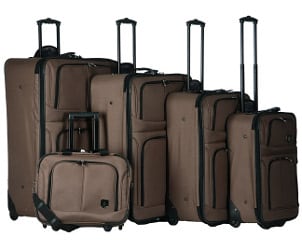 The next time you go on vacation, consider taking a 5-piece expandable luggage set to hold all your gear. A luggage set this large might seem too big for all but the longest trips, but there are many advantages to five-piece sets that make them worth having. These luggage options store easily despite their number, provide tons of room for everything you need and aren't just for annual week-long trips to visit Grandma. If you've ever thought about purchasing a 5-piece expandable luggage set but haven't been able to justify it, keep reading to learn about the advantages of this kind of luggage.
Advantages of Large Luggage Sets:

Storage: It might seem counterintuitive, but you can store 5-piece luggage sets pretty easily. Most luggage sets of this size include three suitcases of varying sizes, a duffel and a cosmetic bag; all of these nest inside each other for convenient storage. Simply slide the largest suitcase holding all the bags under a bed or put it in the back of the closet to store the luggage.

Double duty: One advantage of having a 5-piece luggage set is that you always have the right bag for the occasion. The carry-on included with the set is the perfect size for overnighters, while the next largest bag is great for weekend trips. Mix and match the bags you need depending on the trip. For example, for a short trip to an exotic location or somewhere you've never been before, you might take a slightly larger suitcase than necessary to have room for the souvenirs you'll bring home. Just because you have a 5-piece expandable luggage set doesn't mean you have to use all five bags on one trip. Plus, having that many bags means you'll have luggage for the whole family that will be easy to identify at the baggage carousel.

Expandability: This feature is especially important in the luggage you plan to use for long vacations or business trips. Expandable luggage allows to you the room you need to bring home souvenirs or make a hotel room your home away from home. Be careful if the included carry-on is also expandable, as this can tempt you to pack the bag too full to meet carry-on luggage restrictions. Choose 5-piece expandable luggage sets with strong panels and durable zippers so they'll keep their shape, whether expanded or not.

Matching: A matching luggage set always looks nice and makes identifying your luggage easy. While matching luggage may be low on the list of luggage must-haves, carry-ons and cosmetic cases that match the suitcases and duffels will help you keep all your stuff organized and distinguish your bags from others' luggage. Buying luggage pieces separately often means that these smaller bags don't match the set; purchase a 5-piece expandable luggage set to get them all in the same material and design.

Buy Five-piece Sets
Back to Guides Directory