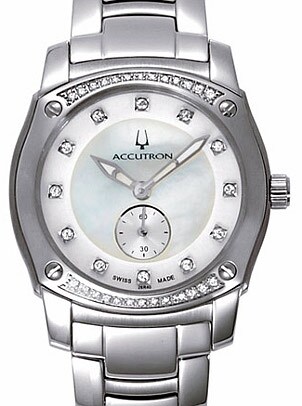 The Bulova Accutron watch debuted in 1960, and the Accutron watch has since become one of the most innovative and well-known watches available. Accutron watches were the first electronic watches ever made and quickly became favorites in the watch world, even among prominent individuals such as President Johnson. The first mass-produced electronic watch to use a transistor and battery, Accutron wrist watches took timekeeping out of the ancient past and gave us accurate, easy-to-use watch options. Both men's Accutron watches and women's Accutron watches are great investments and gift options. Check out this Accutron watch fact sheet to learn more about the famous brand.
Accutron Watches:

Function and accuracy. Bulova was the first company to create an alternative to mechanical watches. Accutron watches use a battery and a tuning fork instead of the traditional spring and balance wheel found in mechanical watches. The tuning fork vibrates approximately 720 times per second. The conventional mechanical balance wheel vibrates only two and one-half times per second. This difference in vibrations is what makes the Accutron wrist watch so much more accurate than a mechanical watch.

History. Bulova revolutionized the timekeeping world with the Accutron watch. Using batteries to power watches opened up possibilities for advanced functions and accuracy. The Accutron watch was the ancestor of our modern, affordable, accurate quartz watches, and Bulova continues to make beautiful Accutron watches today. The Accutron watch has even been to space, as it has become a popular watch choice for astronauts. Bulova advertised Accutron watches during popular television programs during the '60s and '70s and even hired Walter Cronkite as a spokesperson in 1979. Accutron watches are a big part of the history and innovation of the last five decades.

Style. Accutron watches come in many different styles. They are known for their quality parts, and many Accutron luxury watches are accented with diamonds, gold and gemstones. Accutron dress watches are fairly minimalistic, with an emphasis on the relationship of form and function. Both men's and women's Accutron watches can add a touch of elegance and professionalism to an outfit, whether casual or formal.

Buy Men's Accutron Watches
Buy Women's Accutron Watches
Back to Guides Directory