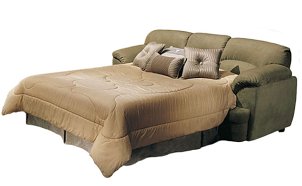 A sleeper sofa is an excellent option if you live in a small space and need a place for overnight guests to sleep. Today's sofa beds have come a long way from the lumpy beds of years ago. If you need to make your living space function as a bedroom on occasion, a sleeper sofa might be the perfect solution. Look at the sleeper couch fact sheet below to learn more about this functional type of furniture.
About Sleeper Couches:

Function: Sleeper sofas look like other sofas, but the cushions can be removed to reveal a bed that is hidden within the frame. Because the bed folds up, sleeper sofas are the same size and scale as other sofas. You can even find sofa beds that recline and feature footrests, just like many regular sofa options.

Types: Sleeper sofas are available in the same styles, patterns, fabrics and types that you find in regular sofas. If you prefer fabric upholstery, you can choose from a wide range of textiles that include woven cottons, microfiber, chenille and thousands of other options. For a more durable finish, choose from a variety of leather grades and finishes. A new option in sleeper sofas is a hybrid that opens to accommodate an air mattress. Because this type of sleeper sofa only houses a simple frame, it is lighter and easier to move than traditional sleeper sofas.

Size: Sleeper sofas are available in sizes ranging from the average loveseat to the extra-long sofa. The size of the bed depends on the size of the sofa, but most options contain a full-size bed. If you have an exceptionally small space, you might even consider sleeper chairs, which function just like sleeper sofas, but in a more compact package.

Considerations: Because sleeper sofas are generally heavy, consider how you will move yours into the house. You will need at least two strong helpers to lift the sofa and maneuver it into your home.

Misconceptions: Sleeper mattresses have come a long way, and there are a lot of options for a comfortable night's sleep. Many sofas offer pillow top mattresses with firm support to prevent guests from feeling the frame below. Advances in comfort mean sleeper sofas are no longer a poor option for guests. Hundreds of comfortable options exist, so it's easy to find the perfect sleeper sofa for any situation.

Buy Sofa Beds
Back to Guides Directory