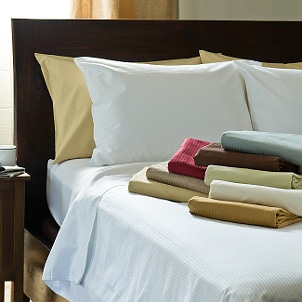 Things You Need:
Needle and thread or sewing machine
Thick nylon cord
Batting or extra memory foam
Beyond protecting your pillows from dirt and grime, pillow covers can function as everything from sleeping bag storage to dust covers for valuable purses. This guide will help you revamp your pillowcases to keep your home organized and decorated. Keep reading to discover five ways to use pillow covers.
How to Reuse your Pillow Covers:

Make a new pet bed. To create a place for your pet to rest that coordinates with your existing decor scheme, use an extra pillowcase to make a pet bed. Stuff your pillow cover with hypoallergenic foam bedding or old pillows and simply sew up the ends.

Create your own custom throw pillows. If you're having a hard time finding throw pillows or throw pillow covers to accent your home, try sewing your own. Choose a pillowcase that fits the look you're going for and cut it in half. This will allow you to make two decorative pillows. Sew three sides shut; then simply fill with batting or an existing throw pillow that you want covered. Repeat with the other pillowcase. Sew up the remaining sides and enjoy your new complementary accent pillows.

Replace lost sleeping bag covers. If your sleeping bag is missing a protective covering, pillow cases can easily fill in. To keep sleeping bags dry and clean while storing or camping, try this simple trick; cut a small slit on opposite sides in the top band of your pillowcase. Thread a heavy-duty cord through and tie a knot on each end. Roll your sleeping bag tightly, slip it into your pillowcase and cinch up the ends with the cord you just added.

Use them to store purses. Pillow covers can be a great way to store valuable purses when not in use. Make sure your purse is clean and dry; then slip it into a pillowcase. Fold remaining fabric and stack in your closet for easy retrieval. For even more organizational efficiency, try using pillowcases that coordinate to the color of the purse you are storing.

Easily store sheet sets. To keep your linen closet organized, try using pillow covers to keep sheet sets together. Fold your flat and fitted sheet and the tuck it inside the coordinating pillowcase. Stack your sheet sets on top of each other and enjoy the ease of locating a matching sheet set every time you need one.

Buy Pillowcases
Back to Guides Directory