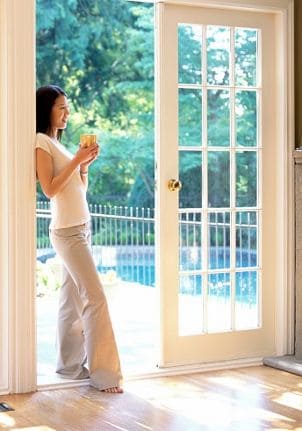 Everyone wants to look good and, sometimes, that means looking a bit slimmer. Luckily, with the right shoes and clothes, it's easy to dress 10 pounds lighter, giving more confidence and a new look. Learn some of the best tricks to dressing skinny with the following tips.
Dressing 10 Pounds Lighter:

Longer tops: When you want to look slimmer, it's all about creating the right line. T-shirts that fall at the top of your hips create a horizontal line at the widest point of your body, emphasizing it. Instead, you want to give the effect of a long, vertical line to lengthen and slim your body. Pair long tunics with skinny jeans or pick up a boyfriend cardigan that falls at mid-hip or lower.

Blacks and solids: It's a well-known fact that black can be slimming, but so can other solids, especially when you wear just one color. It's easy to dress in a single color when you're in neutrals, like a pair of grey or white pants with a matching top, and it gives the impression of one long, slim line. If you don't want to be decked head-to-toe in one hue, try mixing different shades of the same color or try a dress in a solid color with shoes and accessories in a complementary hue.

Big prints: Prints can be fun and chic, and for those who love prints, there's an easy way to use them to your advantage. For a slimming effect, choose big prints over small prints. Small prints, like microflorals and small stripes, give the impression of a vast space with lots of repetition. Big prints, however, do the opposite. Larger prints make you look thinner because less repetition shows in the pattern, creating an appearance of a smaller space.

Fitted and flat: Some people have the tendency to wear looser clothing to hide problem areas. More fabric, however, means a larger look. The best way to look lighter is to wear clothing that is fitted but not too tight. A fitted blazer slims just about any look, and a curve-grazing A-line dress flatters your shape while simultaneously using the wider hem to create a slimmer look up top. When you're choosing pants, choose flat-front styles to avoid making your stomach and hips look larger than they are.

Adding height: One of the quickest ways to look 10 pounds lighter is to throw on a pair of heels. They automatically make you taller, lengthening your body and causing it to look automatically thinner. High heels give you a better posture too, which is the key to looking slim. Try a pair of fun pumps to really add height or a low wedge to give yourself just a little boost.

Buy Clothing and Shoes
Back to Guides Directory