5 Ways to Celebrate Memorial Day
by Andrea Sparks
Published April 28, 2010 | Updated June 30, 2015
Held on the last Monday of May each year, Memorial Day is a federal holiday meant to honor American troops who have fallen in wartime service to their country. For most Americans, the holiday is a way not only to honor the fallen soldiers, but also a day to spend with their families, remembering their own deceased relatives. Here are some ideas on how you can make the most out of your Memorial Day observances this year.
Traditional Memorial Day Celebrations: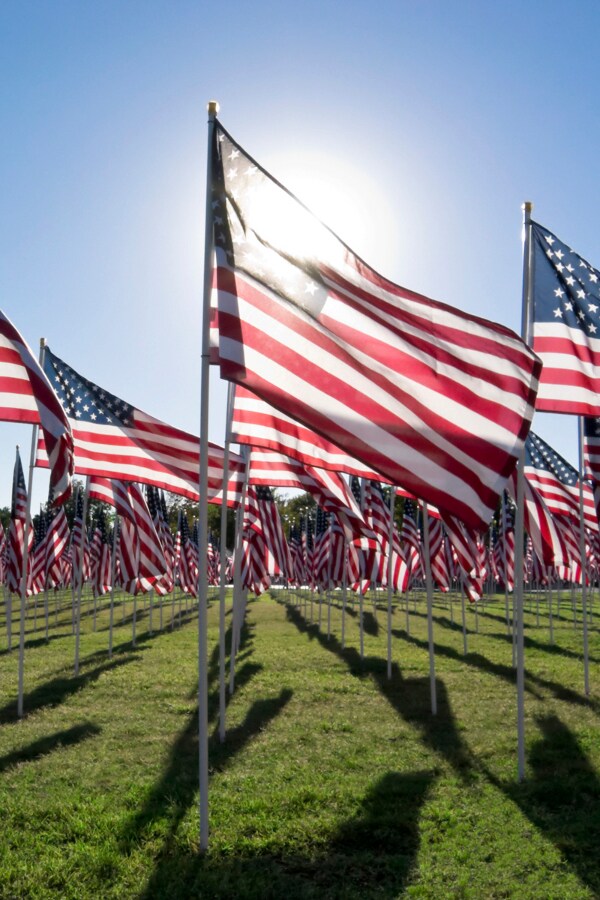 Shop Our Memorial Day Sale ▸
Visit the Cemetery

The traditions of Memorial Day are deeply rooted in decorating graves, and the holiday was even originally called Decoration Day after the Civil War. For many people, however, Memorial Day has extended beyond honoring fallen soldiers alone and become a day for honoring and remembering deceased family members, too. Whether you're visiting a national military cemetery or visiting the graves of family members, Memorial Day is the perfect day to visit and decorate graves with flowers and American flags.

Decorate with Flags

Flying a flag is a traditional way to commemorate the holiday. It shows your recognition of fallen troops as well as your support for any troops that are currently serving. There are many traditions concerning the flag and Memorial Day. For example, small flags are appropriate for decorating graves of soldiers, and large flags flown on a flag pole should be flown at half-mast from dawn until noon as a symbol of respect for fallen troops. A simple way to observe the holiday is to place a flag outside the door to your home.

Spend Time with Family

This is how most families in the U.S. spend the holiday. With the day off of work and school, it's the perfect opportunity to get together and spend some quality time as a family. Memorial Day has become a big day for barbecues, but consider taking advantage of the day off and spend it focusing in on the meaning of Memorial Day by visiting local war memorials with your family and teaching your kids about the history of our country and why we observe the holiday.

Have a Moment of Silence

Since Memorial Day is primarily observed to remember and honor fallen troops, having a moment of silence during the day is an appropriate way to show your own respect. You can organize a moment of silence anytime during the day for you and your family, particularly if you have relatives who have given their lives in service. You can also participate in the national moment of remembrance which takes place every Memorial Day at 3 p.m. local time.

Honor Local Veterans

Although Memorial Day is primarily for remembering the dead, the national holiday is also a good time to honor surviving veterans, many of whom have friends who fell during wartime. Many communities have special Memorial Day programs and fundraisers for veterans that you can attend. You can also seek out veterans in your area and learn their stories.