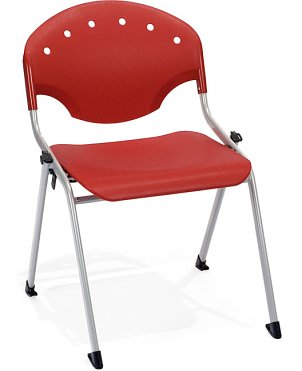 When you want seating that's both compact and functional, stacking chairs are a good solution. Stackable chairs don't have moving joints, making them extra sturdy. You can unstack them quickly for an outdoor party or for entertaining guests and then stack them up and tuck them away in a garage or corner of the home just as quickly. Whether you're looking for a set of durable patio chairs for the summer or comely chairs to use in the living room year-round, stackable chairs may be what you're looking for. Keep reading to find out about five different uses for stacking chairs that you could implement around your home.
Stacking Chair Uses:

Use stacking chairs for lawn parties. Nothing beats a get together with friends and family out on the lawn in the late spring or summer, but it's hard to hold a party outdoors if you don't have the right chairs. Stacking outdoor chairs are a perfect choice for outdoor parties: they're comfortable; they set up easily; and they store away compactly and quickly. If you like to have friends over for grilling, a picnic or just to sit around and have fun in the back yard, stacking outdoor chairs are a good seating solution.

Use stacking chairs for company. When living space is tight, having a few chairs available that take up minimal space and are portable can be handy. Stackable chairs can easily set behind a sofa, on the back patio or in a corner of the room when they aren't in use, and then you can pull them out when company arrives. Stackable chairs are comfortable and sturdy and are available in a wide variety of attractive styles, one of which is sure to go with your decor.

Use stacking chairs in your office. It's normal to have a couple chairs in front of your desk for colleagues or clients, but it's nice to have a few stacking office chairs on hand for impromptu meetings in your office. When you know that you will be visiting with several people, you can pull out a few stacking office chairs from a closet or behind the door. When you have finished, you can easily tuck the stacking chairs away, leaving your office looking neat and uncluttered.

Use stacking chairs as patio furniture. Outdoor stacking chairs and plastic stack chairs are ideal for setting out on the patio during the warm months of the year. Plastic stacking chairs are weather-resistant and attractive, and they come in a wide variety of colors and designs, so you're sure to find a model of stacking chair that goes well with your patio. If you want something a little more durable, a metal stacking chair designed for use outside can make a fine addition to your current patio furniture.

Use stacking chairs in a reception area. When you're looking for furniture for a reception area, you want chairs that are durable, comfortable, attractive and easy to move around; stack chairs are all of these things. Stack chairs with metal frames and padded seats and backs look nice, last a long time and keep clients comfortable while they wait.

Buy Stacking Chairs
Back to Guides Directory