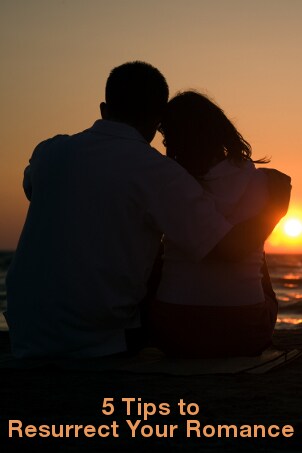 Romantic gestures don't have to, and shouldn't, wait until Valentine's Day. Sometimes relationships can hit plateaus and need a little kick-start to get the excitement back. Sometimes you just want to express your love. No matter the reason, any time is a good time to surprise your loved one with a gift or gesture. Here are some ideas to help renew the magic of your romance.
Getting the Spark Back:

Spend extra time together: Nothing says romance like stealing away to spend time with one another. Take an afternoon off from the office and just be together. Turn off your phones so you won't get distracted, and then go for a walk, have a picnic in the park, or just sit on a blanket and watch the sunset.

Do a chore they don't like: Everyone has a chore they don't like doing. Whether it is washing the dishes or taking out the garbage, surprise your significant other by doing a chore they don't like for them. They will appreciate the time you spent doing it, and it will help you to appreciate the work they do more.

Write a love note: Write them a note to let them know how you feel; then hide it somewhere they will find it throughout the day. Even something like a simple "I love you" means a lot when your significant other finds the note hidden in a pocket, purse, or lunch bag. Or, perhaps, you could send an unexpected text telling them how much they mean to you.

Decorate just for them: Do they like flowers? Buy a few bouquets of your loved one's favorite flower and let them find them as they walk in the door. Do they maybe need a night of de-stressing? Place candles around the tub and light them just as your love arrives home. For a romantic surprise, place rose petals on the top of the ceiling fan blades so she will be showered with petals when she turns it on.

Have a weekly date night: Pick a night of the week to have a date night. Take turns planning it, and don't tell the other the plans, so it is always a fun surprise. Then make sure nothing gets in the way of it. It can even be something as simple as going to the neighborhood cafe for a quick coffee; the point is to have some alone time together that you can both look forward to every week.
What Do You Want to Do Next?

Shop Fresh Flowers
Shop Gift Baskets
See All Gifts & Flowers
See All Guides
Read More Health & Beauty Guides
Learn More about Relationships & Intimacy