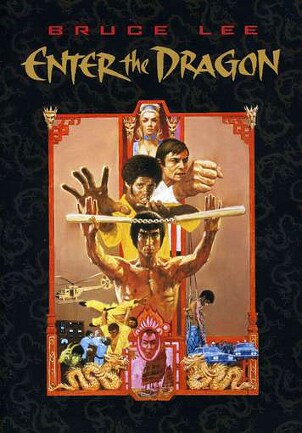 The martial arts genre has had a strong influence on American action movies for the last several decades. The action-heavy exploits of martial artists like Gordon Liu, Jackie Chan, and Bruce Lee continue to thrill American audiences. If you haven't experienced the guilty pleasure of an electrifying martial arts movie, these titles will be a fine introduction to the best of the genre.
Discover These Classic Films:

Enter the Dragon (1973): Before his untimely death, Bruce Lee helped launch the popularity of martial arts films in the West with this, his first and only Hollywood production. The film remains one of the most watched kung fu movies ever released. Lee plays a secret agent sent undercover as a competitor in a crime lord's martial arts tournament. His lightning-quick moves are on full display, culminating in an unforgettable showdown.

Crouching Tiger Hidden Dragon (2000): This medieval drama lacks the camp of other martial arts movies, interweaving two love stories against the stunning Chinese landscape. Chow Yun-Fat stars as a kung fu master chasing a mysterious kung fu prodigy (Zhang Ziyi) who has stolen his legendary sword. The superhuman fight sequences are masterfully shot in an exaggerated style that adds an element of fantasy in an otherwise highly authentic historical setting.

Drunken Master (1978): This was Jackie Chan's breakout role, playing a drunken kung fu master, who must draw on his father's teachings in order to defeat a hired killer. His wacky, bungling kung fu style is as acrobatic as it is funny. The frantic fight scenes, choreographed by Yuen Woo-Ping, have become the signature for Chan's films.

Way of the Dragon (1973): In this film, Bruce Lee -- who also wrote and directed -- plays a country boy who seeks to bring his family out of the local crime syndicate's shadow. The fight sequences show Lee in prime fighting fashion, but the climax of the film pits him against martial arts star Chuck Norris. The contrasting fighting styles of these two masters mark this as one of Bruce Lee's best films.

Shaolin Master Killer (1979): In one of his earliest films, Gordon Liu plays San Te, a young man who seeks to learn kung fu to avenge the deaths of his family. Through his arduous training at the hands of Shaolin monks, he hones his physical and spiritual skills and returns home to face his enemies. The fight scenes are incredible, but it's the film's powerful themes of transformation and enlightenment that have inspired many imitators.
What Do You Want to Do Next?

Shop Martial Arts Movies
Shop All Action & Adventure Movies
See All Guides
Read More Entertainment Guides
Learn More about Movies