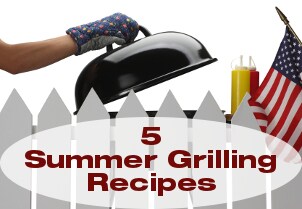 When the weather warms up, it's time to get fired up for some outdoor cooking. Cooking up burgers and hot dogs always pleases a crowd, but if you really want to impress your guests, you'll want to get more creative. Whether you like eating light or you prefer a juicy steak, there's a summer recipe that will inspire you to dust off the grill.
Read our summer grilling tips to get help preparing your barbecue, and then try these five fun recipes.
Grilled Peach Arugula Salad:

Grilling peaches brings out their sweetness, and the peppery arugula and bright pesto are the perfect balance. Make this summery salad as a main course or as a side for your steaks.
Salad Ingredients:
2 ripe peaches
2 teaspoons olive oil
1 teaspoon balsamic vinegar
2 cups baby arugula
Fresh mozzarella, sliced
2 tablespoons pine nuts
Salt and pepper
Mint & Basil Pesto Ingredients:
1 packed cup of a mix of mint and basil
1/4 cup pine nuts
1/2 garlic clove, chopped
Juice and zest from 1/2 a lemon or lime
1/4 cup olive oil
A few pinches of red pepper flakes
Salt and pepper
Directions:

Slice peaches into six segments per peach. In a small bowl, toss peaches with olive oil, balsamic, and a pinch of salt.

Brush peaches with a bit of oil; then grill each side for 2-3 minutes.

Set the peaches aside and allow them to cool to room temperature.

Meanwhile, make the pesto by combining all ingredients in a small food processor on pulse setting.

Toss arugula with a bit of olive oil and a few pinches of salt and pepper.

Assemble on a platter and top with mozzarella slices, peaches, and dollops of pesto.

Finish with a sprinkle of pine nuts.
Grilled Flank Steak:

A barbecue grill's best use is cooking the perfect steak. Here's a simple recipe that you can perfect.
Ingredients:
1 cup barbecue sauce
1/2 cup Burgundy wine or beef broth
1/4 cup lemon juice
1 beef flank steak (2 pounds)
Directions:

In a bowl, combine the barbecue sauce, wine, and lemon juice. Pour 1 cup marinade into a large sealable plastic bag and add the steak. Seal bag and turn to coat; refrigerate for 4 hours or overnight. Cover and refrigerate remaining marinade.

Drain the plastic bag and discard used marinade. Grill steak, covered, over medium heat 6-8 minutes on each side or until meat reaches desired doneness (for medium-rare, a meat thermometer should read 145 degrees F; medium, 160 degrees F; well-done, 170 degrees F). Let stand 10 minutes before slicing. To serve, thinly slice the meat across the grain. Serve with reserved marinade.
Orange Beef Kabobs with Grilled Fruit:

These citrus kabobs are a perfect mix of traditional barbecue and gourmet grilling.
Ingredients:
3/4 cup plain yogurt
1/4 teaspoon cayenne pepper
1 teaspoon minced fresh ginger root
2 teaspoons grated orange zest
1 pound top sirloin, cut into 1-inch cubes
1 large red onion, cut into wedges
2 large red bell peppers, cut into 2-inch pieces
2 tablespoons olive oil
1 1/2 cups 1-inch fresh pineapple cubes
1 large navel orange, peeled and sectioned
1 tablespoon butter
2 tablespoons brown sugar
1 tablespoon rum (optional)
Directions:

Combine yogurt, cayenne pepper, ginger, orange zest, and sirloin cubes in a large freezer bag. Massage bag to mix and coat beef well. Refrigerate for at least 2 hours.

Preheat an outdoor grill for medium heat, and lightly oil the grate. Thread the onion, red pepper, and marinated beef cubes onto skewers; brush with olive oil.

Place the pineapple and orange sections in the center of a large piece of heavy duty aluminum foil. Dot with the butter, sprinkle with brown sugar, and drizzle with the rum. Bring together the long sides of the foil and seal well; fold up and seal each end. Place fruit packet on grill and cook, covered, for 10 minutes.

Place kabobs on the grill with the fruit. Cook, turning occasionally, until meat is done to your liking and fruit is soft and glazed, about 10 minutes.
Dutch Oven Chicken Parmesan:

Trying a Dutch oven recipe is the perfect excuse to go on a camping trip this summer. This recipe can be adjusted for a crowd, which makes it perfect for family reunions or scout camping trips.
Ingredients:
6 boneless, skinless chicken breasts (about 2 pounds) or about 2 pounds of chicken tenders
2 tablespoons margarine melted (optional)
1/2 cup grated Parmesan cheese (2 ounces)
1/4 cup dry bread crumbs
1 teaspoon dried oregano leaves
1 teaspoon dried parsley flakes
1/4 teaspoon paprika
1/4 teaspoon salt
1/4 teaspoon black pepper
Spicy option: substitute red pepper for black pepper
Directions:

Prepare charcoal for a 400 F oven. (For a 12-inch oven, use about 28 full briquettes; this can vary depending on the brand of briquettes and the size of the oven used).

Combine dry ingredients. Dip chicken in melted margarine, if desired. Coat with dry ingredient mixture.

Arrange in a single layer in Dutch oven. When all of the briquettes are lit, spread about 11 briquettes evenly inside a circle no larger than the bottom of the oven for bottom heat; spread the remaining briquettes evenly on top of the oven.

Bake 20 to 25 minutes or until tender. About half way through cooking, the breasts can be turned to brown both sides, if desired.

Remember to turn the oven 1/4 to 1/3 turn every 8-10 minutes.

Note: When preparing for large gatherings, use chicken tenders or chicken nuggets (tenders cut into pieces about 3/4-inch long). Use a larger Dutch oven for larger quantities. A 14-inch Dutch oven can hold about 12 chicken breasts or about 4 pounds of chicken tenders/nuggets.
Grilled Margherita Pizza:

If you're ready to try something different, take pizza night outside to the grill. Margherita pizzas are a classic, but you can experiment with different toppings. The trick is to top your pizza after it's on the grill and don't overload it. A pizza peel (a large paddle) makes the whole process simple, but you can use aluminum foil and tongs if you don't have one. This recipe is enough to make 2 14-inch pizzas.
Dough Ingredients:
3 1/2 cups all-purpose flour
1 envelope instant dry yeast
2 teaspoons salt
1 tablespoon malted barley syrup
1 1/12 cups warm water
2 tablespoons plus 2 teaspoons olive oil, divided
Toppings:
2 large tomatoes, sliced
1 tablespoon olive oil, divided
2 cloves garlic, minced
1/2 teaspoon salt
1/4 teaspoon red pepper flakes
6 ounces fresh mozzarella, sliced
10-12 basil leaves, shredded
Directions:

Combine flour, yeast, and salt in a stand mixer bowl and mix with the dough hook attachment. With the mixer running, add warm water, malted barley syrup, and 2 tablespoons olive oil. Beat dough until a ball forms. If dough is too sticky, add 1 tablespoon flour. If dough is dry, add 1 tablespoon water.

Knead the ball of dough on a lightly floured surface. Grease a large bowl with the other 2 teaspoons olive oil, place the dough ball inside, and cover with plastic wrap. Place in a warm area and allow dough too double, about 1 hour.

Turn the dough out onto a lightly floured surface and divide into 2 equal pieces. Roll each piece into a ball. Cover each ball with plastic wrap and allow to rest for 20 minutes.

Toss the tomato slices with 1 tablespoon olive oil, minced garlic, salt, and red pepper flakes. Set aside to marinate. Heat up grill to high.

On a lightly floured surface, use a rolling pin to flatten dough balls into 14-inch circles. Working with one at a time, place on aluminum foil or floured pizza peel and brush with 1 teaspoon olive oil.

Oil grill lightly and turn the dough onto the grill, leaving room for the tomatoes. Place tomatoes directly on the grill grate. Close the lid and cook until tomatoes are softened and crust begins to brown on the bottom, about 2 minutes. Brush the raw side of the dough and flip it over, either with the peel or onto a second piece of foil.

Top the cooked side of the dough with the tomatoes, smashing them to create a sauce. Place the slices of mozzarella on top and sprinkle the basil over. Close the lid so the heat will melt the cheese a bit, about 2 more minutes.

Remove the first pizza and cook the second pizza. Allow both to rest about 3 minutes before slicing and serving.
What Do You Want to Do Next?

Shop BBQ Grills
Shop BBQ Accessories
Shop All Outdoor Cooking
See All Guides
Read More Garden & Patio Guides
Learn More about Outdoor Cooking