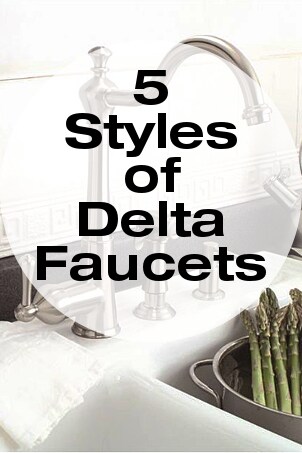 Every room has its own style and personality. In the kitchen and bath, a lot of that personality comes from design details, such as the faucets. Delta faucets feature materials and finishes that will punctuate the style of your kitchen or bath, whether classic or modern. Here are five popular styles of Delta faucets, so you can start adding personality to your kitchen or bathroom.
Popular Delta Faucet Collections:

Linden: Delta faucets in this collection take their inspiration from the branches of the linden tree. The curves of the faucet head exude a playful feeling. The Linden collection includes kitchen and bathroom faucets, and it comes in a variety of finishes. They're made to use less water and to be easy to clean.

Victorian: This timeless style features faucets for both the kitchen and bath. With details inspired by the fleur-de-lis, these Delta faucets are full of ornate flourishes and textures. The finish on these bath and kitchen faucets can vary in tone, displaying an aged and weathered look. The classic theme makes these faucets ideal for matching with vintage-style sinks; try a pedestal sink in the bathroom and an apron-front sink in the kitchen.

Pilar: Simplicity and versatility characterize these kitchen faucets. The high-arc spout is inspired by the look of a flower that is curved over with the weight of the morning dew. This collection fits all types of kitchen designs. It was the first Delta faucet that could be turned on with just a touch, which puts it at the higher end of the price range for Delta, but it's a convenience that many people appreciate.

Dryden: This bathroom faucet collection is inspired by the Art Deco era, which lends itself to multiple bath styles. Geometric angles combine with elegant curves to create a feeling of modernity while still giving a nod to classic faucet styles.

Trinsic: With a style that is modern and sleek, this collection of kitchen and bath faucets works well in a variety of room designs. The Trinsic kitchen faucets can also be turned on with just a touch. They're made to conserve water and to be easy to clean, and they come in four finishes.
What Do You Want to Do Next?

Shop Delta Faucets
Shop Kitchen Faucets
Shop All Faucets
See All Guides
Read More Home Improvement Guides
Learn More about Faucets