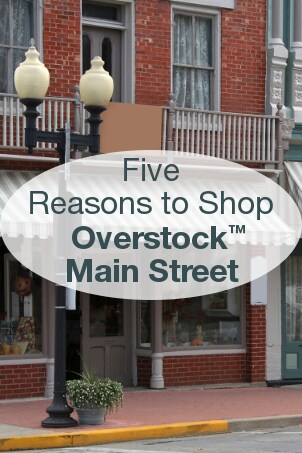 SHOP MAIN STREET NOW >>
Do you remember the last time you took a stroll down Main Street? Chatting with friends, trying on surprising treasures, and smiling at the friendly retailers makes for a delightful day of shopping. While your friends may not be able to join you for an afternoon of online shopping, you can get unique products from friendly entrepreneurs in our Main Street Revolution store. Shopping locally has never been this convenient.
Reasons to Shop Main Street:

Shop local. You've probably been hearing about the benefits of shopping locally. It's a wonderful way to support local economies, help the environment, create jobs, and foster community investment. Our Main Street proprietors live and work in the United States, so you're supporting American small businesses when you buy their products. Even though the shopkeepers may not live in your neighborhood, you can shop by state to find the most local options.

Find expressive style. Ditch mass-produced pieces and create a unique fashion or home decor look with items from our Main Street store. Try a coffee table made from reclaimed wood, a piece of handmade jewelry, or a set of custom living room furniture to buck the cookie-cutter trend. The variety of cool products you'll find in the Main Street store shows the ingenuity of the American people. You'll find everything from unique baby clothes to cool cat furniture.

Support the American Dream. Reward hard work and risk-taking by supporting entrepreneurs who are following their dreams. Here at Overstock™, we knew we could use our technology to bring products from small businesses to a larger audience than they could on their own. Many of the shopkeepers in our Main Street Revolution store work out of their homes, and some make handmade items, like jewelry, soap, dog clothes, and bags. Your financial support means the world to crafters and artisans who have taken a chance on their skills.

Invest in quality. Mass-produced items may not always offer the level of quality that you desire in things like clothing, furniture, and jewelry. Without emptying your wallet, you can invest in worth and value by shopping in our Main Street store and getting products straight from designers and artists.

Know your retailers. Shopping on Main Street gives you a sense of community. It's nice to know who made the delicious cookies you're buying for your book club party. Our handy proprietor descriptions can be found on the product pages for many items in our Main Street store, so you can learn more about the products and who is selling them.

Shop Main Street Jewelry
Shop Main Street Home Decor
Shop the Main Street Revolution Store
See All Guides
Read More Online Shopping Guides
Learn More about Comparison Shopping
Published July 7, 2010
Updated December 11, 2014