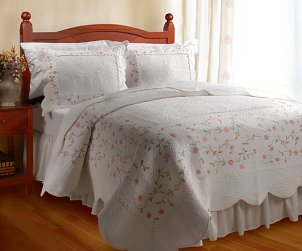 Bedding makes a big difference in how you sleep and the look of your room. Bedspreads can be an excellent complement to the right bedroom decor and have properties that make them, under the right circumstances, some of the best bedding you can buy. Keep reading for five reasons why a bedspread may be a smart purchase for you.
Buying a Bedspread:

Bedspreads have a rustic look. If you're going for a rustic or Americana look in the bedroom you're decorating, consider placing a bedspread on the bed. Bedspreads and quilts can give your bedroom a homespun look that you just can't get with standard comforters.

Bedspreads are perfect during warm weather. Bedspreads and blankets have a unique hand: they often feel dense because they use tightly woven fabrics and dense batting, but they aren't bulky at all. While they can keep you plenty warm during a mild winter, bedspreads can also lend just the right amount of comfort to a toasty summer night. If you're a warm sleeper, a bedspread can be a great piece of bedding.

Bedspreads are easy to wash. Bedspreads and quilts are almost always made from machine-washable materials -- but check your care instructions, just in case -- and the materials used to give bedspreads loft and warmth is usually very durable. Even after repeated washings and repeated use, the fill in your bedspread won't clump into balls. It will continue to stay in top shape for years.

Bedspreads are durable. Bedspreads are often made from densely woven fabrics that aren't easy to tear, as well as thick batting that won't ball up easily. Combine this with the fact that you can throw a bedspread in the wash without having to worry about it, and you get a piece of bedding that's low maintenance and that will last for years.

Bedspreads often feature unique stitched designs. A feature that's unique to bedspreads is that they often feature elaborate stitching designs. Because they're less bulky than duvets and comforters, they can be stitched with elaborate designs and contrasting threads that create patterns and looks that are entirely unique to bedspreads.

Buy Bedspreads
Back to Guides Directory