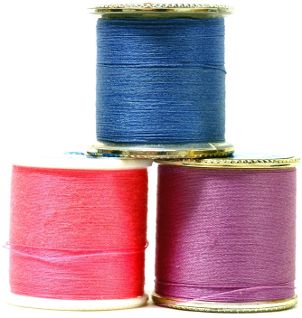 September is National Sewing Month. Begun in 1982 by President Ronald Reagan, National Sewing Month has only gained popularity since. Whether you're an expert or a novice sewer, September is a good month to celebrate the art of sewing and start a new project. Here are a few easy and quick ideas you can use to get you started.
Sewing Projects:

Grocery tote: Go green and make something cute at the same time. Pick a heavy fabric, like canvas, in a color or pattern you love, and use it to make a large, flat-bottomed bag to carry groceries, sewing supplies, and anything else you need to tote around. You can find plenty of patterns online or make up your own. Just make sure to attach good, sturdy handles to the bag so you can carry it easily, no matter how much you pack inside.

Infinity scarf: Not only are infinity scarfs trendy and cute, but they're also extremely easy to make. Choose a soft fabric in a bright pattern and sew it into a long tube, sewing the ends together. Loop it around twice and your infinity scarf is ready to go. For an even easier option, cut the bottom of an old T-shirt off just below the sleeves. Then remove the bottom hem of the shirt. Stretch the fabric until the edges roll. Sew on buttons and other cute appliques to give the scarf an extra bit of decoration.

Bolster pillow: For the more advanced sewer, a bolster pillow is a challenging but fun project. Once you've chosen your fabric, look for free patterns online or in a sewing book. Fill your bolster pillow with cotton batting to your desired firmness. The hardest part is cutting and sewing the circles for the ends. Make sure to cut them 1/2 inch larger in circumference than you want the ends of your pillow to be and trace the 1/2 inch smaller circle onto the fabric to use as a sewing guideline.

Applique shirt: For a quick project, you may want to try sewing applique onto a T-shirt or cardigan that you already own. Simply cut the shape you want your applique to be out of a patterned fabric. Use a sewing machine to stitch the shape onto your shirt, following the outside line of your applique. Do you want something a little more challenging? Try reverse applique. Cut your desired shape out of the shirt itself and stitch the edges to keep them from fraying. Next, stitch your patterned fabric on the inside of the shirt so the pattern shows through.

E-reader or tablet case: Give your gadgets a little extra protection with a homemade case for your e-reader or tablet computer. Use a soft fabric that won't scratch the screen, such as a soft felt or fleece, and cut the fabric 1/2 inch wider and longer than your tablet on each side. Stitch the edges together, leaving the top open. You may also want to leave an opening at the bottom to accommodate a charge cord. Decorate your case with buttons, appliques, or even fabric paints to personalize it.

Buy Sewing and Needlework Supplies
Back to Guides Directory