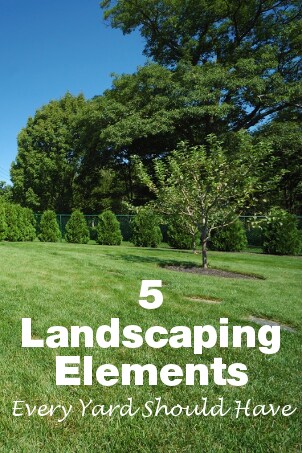 When you buy a new home, your outdoor space is just as important as what is indoors. Landscaping your yard can be fun and satisfying, whether you're landscaping for the first time or you're adding to your garden and patio design. You may need some direction before pulling out the shovel. Here is a list of the main landscaping elements you should include in your plan.
Landscaping for Every Yard:

Open space: You want to be able to enjoy your yard, and having some open space will let you do just that. The lawn is the most popular form of open space because it is attractive, fairly easy to maintain, and comfortable for your family to play on. If you have lots of land to work with, you may want to consider some sports courts or a pool to increase the function of the open space in your yard.

Shade: Not only is a bit of shade great to relax in, but it can be beneficial to the plants in your yard as well. Many plants grow best in full or partial shade, so adding some trees to your landscaping allows you to have a wider variety of plants and flowers in your yard. You'll also have more places for birds to nest, so you can increase the variety of life in your backyard. Aside from trees, umbrellas, and awnings can shade a patio to make it more comfortable during the heat of the day. Include shade wherever you plan to have a seating area.

Flowers: Whether you plant flower beds or simply have flowers in planters around your home, a few blooms can go a long way in beautifying your yard. Different types of flowers bloom at different times during the year, so look for a variety of flowers to keep your yard in bloom throughout the spring and summer. When you're making your plans for flowers, think about color, too. You can choose flowers in all the same color, like white, for a dramatic look. Or you can combine two complementary colors, like purple and yellow.

Living space: Give yourself a place to relax and gather in your yard with a patio or deck. These outdoor living spaces make your yard more functional for you and your family and give you a bit more living space. Outfit your patio with some outdoor furniture and a grill for barbecuing, and you'll have the perfect space to enjoy all summer long.

Lighting: Outdoor lighting helps you enjoy your yard during evening hours. When you create your lighting plan, think about combining functional light with ambient light. You can light a patio, lawn, or pool to give you more time outdoors after dark or use spotlights to simply illuminate your landscaping. A waterfall, flower garden, or group of trees all look beautiful when lit up at night, and lining your front walk with small lights makes your home more inviting while adding safety.
What Do You Want to Do Next?

Shop Patio Furniture
Shop Outdoor Decor
Shop All Garden & Patio
See All Guides
Read More Garden & Patio Guides
Learn More about Garden Decor