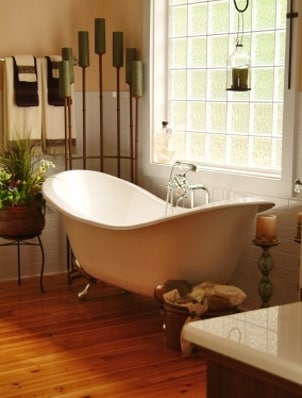 A lot of home improvements revolve around kitchen and bath remodels. These are the most used rooms in the house, so it makes sense to make them as comfortable and attractive as possible. Here are a few project ideas to help you re-imagine your kitchen or bath.
Kitchen and Bath Projects:

Sinks: Once you know how to take apart and reassemble the faucet fixtures and drain assemblies, installing a new sink is a relatively simple home improvement. For a heavily used sink, you'll want something durable, like stainless steel. Sinks for hand-washing can get away with other styles and materials that aren't as tough.

As a general rule, kitchen sinks lean toward the more practical choices. Porcelain or stainless kitchen sinks are traditional favorites for the kitchen. Composite, aluminum, brass and acrylic kitchen sinks are gaining in popularity, too.

For bathroom sinks, people like to show off their home decor style. Vessel sinks make an unforgettable statement, mixing modern flare with a variety of materials like glass, stone, porcelain and beaten copper.

Faucets: Changing out an old faucet can be a great change, even if you're keeping the old sink. Kitchen faucets can bring a lot of style to your kitchen or bath while remaining functional. Faucets with long necks allow for water to fill large pots and pans more easily. When selecting a faucet, be sure it's compatible with your bathroom or kitchen sink. If you have an under-mount sink, check the available holes in the countertop for your new faucet.

Showers: A new shower can be as complex or as basic as you want it to be. Your shower can be a simple curtain lining the tub, a one-piece kit installation or the full treatment, including tile, glass, shower heads, heat lamps and other luxuries. A shower kit puts everything you need in one box. You can also refit your existing shower with a new showerhead or shower massage panel for an easy upgrade.

Tubs: A shower is great, but there is something about a long, hot soak in the bathtub that just draws you in. Install a luxurious soaking tub or an old-fashioned clawfoot tub. Jetted tubs, on the other hand, use air jets to massage away stress and induce relaxation. Like sinks, you'll want to consider construction and configuration. Bath tubs come in a wide variety of shapes and sizes to fit your bathroom. Fiberglass and acrylic are common bath materials in modern tubs, but porcelain and cast iron are not going out of style any time soon.

Toilets: An old toilet can be inefficient and mismatched with the rest of your bath decor. It's a simple matter to swap out that old toilet with a stylish, water-efficient model. Changing a large fixture like the toilet can completely change the look of your bath.

Buy Bath
Back to Guides Directory