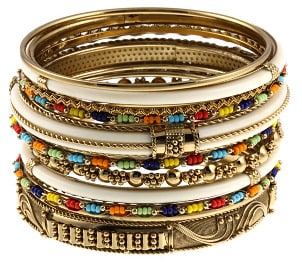 Layering jewelry is a major trend, but it can be a difficult technique to master. To ease into it, try stacking bracelets. Bracelets are easily stacked to create a different look every time. Almost any bracelet style can be layered and stacked, but some cuffs, bangles, chains, and braids are easier to wear in this style. Consider one of these top five stackable bracelets if you're ready to try this fun and fashionable trend.
5 Stackable Bracelets:

Braided leather bracelets: Leather is easy to stack with other bracelets because it is neutral but edgy. Braided leather bracelets in brown, black, and white can be worn with gold chains, beads, and other natural bracelets, like those made from hemp. Some leather bracelets are bright red, blue, green, and yellow. These bracelets can easily be layered with rubber, stainless steel, and sterling silver bracelets.

Pearl stretch bracelets: Pearls bring a unique texture to any look. On stretchy elastic, pearl bracelets stack fashionably with charm bracelets, cuffs decorated with coins, and silver bangles. Consider pale pink Akoya pearls or green-grey Tahitian pearls if you're ready to play with color. For an even bolder look, wear a long pearl necklace as a bracelet. Wrap the necklace around your wrist to achieve dramatic texture and add a bold sterling silver link bracelet and a few colorful rubber bracelets to the look.

Cubic zirconia tennis bracelets: Dressing luxury down has become a major fashion trend. You can fake it by investing in a few cubic zirconia tennis bracelets. They are available with clear stones, as well as with bright and colorful gems. Lovely cubic zirconia tennis bracelets look amazing with gold bangles, beaded stretch bracelets, and braided cloth friendship bracelets.

Stackable bracelets sets: If stacking bracelets freestyle isn't quite your speed, then try a set of bracelets that are made specifically for stacking and layering. Most sets have one or two simple bangles, a colorful bracelet, and maybe one with gemstones or cubic zirconias. Wear them all at once or choose just a few bracelets to wear together.

Chunky beaded bracelets: A beaded bracelet can easily be layered with a charm bracelet and a cubic zirconia cuff. Look for colorful beads if you want tons of bold style or choose black-and-white beaded bracelets if you prefer sleeker, more neutral fashions. Don't be afraid to clip charms onto your beaded bracelets for extra shine and style.

Buy Bracelets
Back to Guides Directory