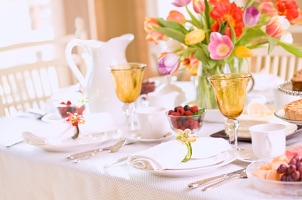 SHOP KITCHEN & DINING NOW >>
Spring is the season of rebirth, and the Easter holiday is the perfect time to celebrate renewal. From chocolate bunnies to Easter eggs, there's no better way to enjoy Easter than with food. Here are a few simple recipes you can try out in your own kitchen to make this Easter especially fun for you and your family.
Easter Basket Cupcakes:

These festive treats are easy and fun to make and decorate. Get the whole family involved or surprise your kids Easter morning with these mini, edible baskets.
Ingredients:
1 box cake mix
1 tub frosting
1 package cupcake liners
1 cup shredded coconut
Green food coloring
Chocolate eggs or jelly beans
Thin licorice rope
Directions:

Place cupcake liners in a muffin tin. Make cake mix according to directions and pour into cupcake liners. Bake according to cake decorations. Meanwhile, mix shredded coconut with green food coloring to desired tint. Let cupcakes cool; then frost and sprinkle coconut over top. Cut a length of licorice rope approximately 3 inches long and insert each end into both side of cupcake and repeat for all cupcakes to make the basket handles. Place chocolate eggs or jelly beans on top to create the look of a filled basket.
Deviled Eggs:

Easter is not complete without an egg hunt. When you're done searching for eggs, use them to whip up this simple recipe.
Ingredients:
8 hard boiled eggs
6 tablespoons mayonnaise
1 tablespoon yellow mustard
2 tablespoons sweet relish
Salt to taste
Paprika for garnish
Directions:

Peel shell from the hard boiled eggs. Cut each egg in half lengthwise. Remove yolks and place in mixing bowl. Gently crumble yolks with a fork. Add mayonnaise, mustard, relish, and salt to yolks and mix until smooth. Spoon mixture into each egg half and sprinkle with paprika.
Easter Brunch Quiche:

There's no bigger brunch holiday than Easter. This quiche makes use of any extra eggs you may have and is the perfect mid-morning meal.
Ingredients:
4 eggs
1 1/2 cups half-and-half
1/2 teaspoon salt
4 ounces shredded Swiss cheese
2 ounces shredded mozzarella cheese
1 cup cubed ham
1 9-inch unbaked pie crust
Directions:

Preheat oven to 425 degrees F. In a large bowl, whisk together eggs, half-and-half, and salt. Place shredded cheese in pie shell and pour egg mixture over top. Sprinkle ham cubes over quiche. Bake for 15 minutes or until crust is golden and filling is set. Let cool 5-10 minutes.
Peanut Butter Eggs:

Skip store-bought treats this year and make your own Easter goodies. These chocolate-covered eggs will delight more than just the kids in the family.
Ingredients:
2 cups creamy peanut butter
3/4 cup butter
3 1/2 cups confectioners' sugar
12 ounces semisweet chocolate chips
2 tablespoons shortening
Directions:

In a mixing bowl, combine peanut butter and butter. Stir in confectioners' sugar slowly. Place mixture in refrigerator for 1-2 hours. Remove from refrigerator and shape into several egg shapes. Place on wax paper and freeze for 20 minutes. Melt chocolate chips and shortening in a double boiler, stirring frequently. Using a fork, dip egg shapes in chocolate and place on wax paper until cool.
Hot Cross Buns:

These sweet rolls have been an Easter tradition since the first century. Serve up a batch hot out the oven on Easter morning.
Starter Ingredients:
1 egg, beaten
1 cup warm water
1 tablespoon yeast
1 teaspoon sugar
1/4 cup bread flour
Dough Ingredients:
4 cups bread flour
1 teaspoon salt
2 teaspoons allspice
1/3 cup butter, diced
1/3 cup sugar
1/3 cup sugar
2 tablespoons all-purpose flour
Oil
Glaze ingredients:
2 tablespoons sugar
1 tablespoon warm water
Directions:

To make the starter, mix the beaten egg with warm water. Crumble yeast into egg mixture. Add sugar and flour. Cover with plastic wrap and keep in a warm place for 30 minutes or until the mixture is frothy.

Sift the flour, salt, and allspice into a mixing bowl. Add butter and stir until dough resembles coarse crumbs. Make a well in the center and fill with sugar, lemon zest, and starter mix. Slowly stir flour mixture into center and mix quickly with a wooden spoon until dough binds and mixture is lumpy.

Remove dough from bowl and knead on a floured worktop until smooth and elastic (about 10 minutes). Place in a warm, greased bowl, cover, and allow dough to rise in a warm place for 1 hour.

Place risen dough on worktop and knead for several minutes. Shape into ball, return to greased bowl, and let rise for another 30 minutes.

Divide dough into 12 even pieces. Roll them into buns and leave to rest for several minutes, covered with a clean cloth.

Place buns on a lightly greased baking sheet. Slightly flatten each bun and cut almost through dough to form a cross.

Grease a large plastic bag and place tray with buns inside, tying the bag closed. Allow buns to rise for 40 minutes.

Preheat oven to 415 degrees.

Remove bag and bake buns for 8-12 minutes or until risen and golden. Dissolve sugar for glaze in 1 tablespoon or less warm water and brush over warm buns.

Shop Easter Gifts
Shop Bakeware
Shop All Kitchen & Dining
See All Guides
Get More Cooking Tips
Read More Holiday Guides
Published April 29, 2010
Updated March 20, 2015