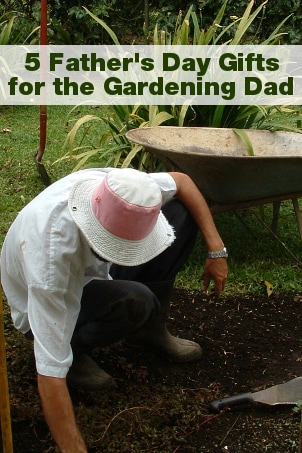 SHOP GARDENING GIFTS NOW >>
With so many Dads longing for the weather to clear up so they can get out and start taming the yard, springtime is the perfect season to celebrate Father's Day. If your Dad has a green thumb, help him out with the perfect gift that he can use to get a start on his yard this spring.
Gardening Gifts for Father's Day:

Mowers and trimmers: Father's Day is the perfect time to upgrade your Dad's old lawn mower. He can go green with a high-powered electric lawn mower. Or get him a precision lawn trimmer. Compact hand trimmers are ideal garden tools for those difficult to reach corners and areas near fragile plants. You can find mowers and trimmers to match any gardening style.

Tool sheds: Garden storage is always a challenge, especially since garage space is usually hard to come by. Give your father a secure, orderly tool shed, so he can organize his garden tools. Depending on your Dad's garden tool collection and the amount of space he has in the garden, you can choose various sizes and styles of tool sheds. Prefabricated tool sheds are ideal for keeping garden tools dry and locked up, since they require little assembly and use durable materials.

Hand tools: The most basic garden tools use old-fashioned elbow grease to get the job done. Make sure your father has plenty of hand tools to dig, rake, and shear the yard into a growing work of art. Present them in a watering can, a bucket, or a tool basket that will make his work even more efficient.

Gloves: A sturdy pair of gloves is all Dad needs to protect his hands from thorns, brambles, cuts, and blisters. Gloves may be among the most overlooked garden tools, but they are essential, and they often need to be replaced every summer. Well-fitting leather or canvas gloves can give any gardener a better grip on tools and help keep his skin from drying out and cracking. Find the right size and material and make Dad's hands happy.

Blowers: Cleaning up clippings and leaves is infinitely easier with a quality hand-held blower. Reverse leaf blowers, or leaf vacuums, can be even more effective because they pull sticks, leaves, and detritus into a catch bag. These power garden tools will just make your Dad's projects easier.

Shop Father's Day Gifts
Shop Gardening Supplies
Find the Perfect Gift in Our Gift Center
See All Guides
Read More Holidays & Giving Guides
Get More Father's Day Gift Ideas
Published May 18, 2010
Updated March 6, 2015