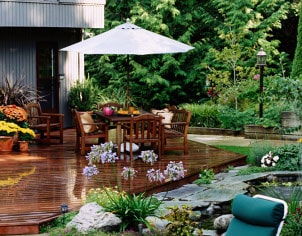 Few activities are as fulfilling and relaxing as gardening, and quality garden tools enhance the experience. If you're new to gardening, the selection of different tools can feel a little overwhelming. All you really need are these five garden tools. They'll help you launch a lifelong gardening hobby.
Essential Gardening Tools:

Gardening spade and shovel: A spade and shovel are possibly the most important tools for gardening that you will own. A decent shovel allows you to shape your garden as you please, move soil quickly from one spot to another, and dig large holes to plant saplings and other large plants. A quality spade can help you dig perfectly sized holes for transplanting vegetables and flowers, loosen up soil around thriving plants, and root out tough weeds.

Weeding tool: Getting your plants to sprout and grow is important, but it's only half the battle. If you don't get rid of the weeds that spring up in your garden, they can choke out the flowers and vegetables you're trying to grow. Having a quality weeding tool on hand can make weeding your garden a simple task.

Wheelbarrow or garden cart: A wheelbarrow or a garden cart can save you many a sore back. A decent wheelbarrow will allow you to easily transport dirt from one part of the yard to another, making quick work of your landscaping projects. You can load a garden cart with the vegetables, flowers, and saplings you're getting ready to plant; all the hand garden tools you may need; and other items to keep you going, like a sun hat and a water bottle.

Garden storage container: It can be a real pain to dig through your garage to hunt down a specific gardening tool or to carry an armload of unwieldy gardening tools from your shed to your garden so that you don't have to make a second trip. You can avoid both these things by buying a garden storage container. Garden storage boxes are usually large plastic boxes that are waterproof and long enough to fit all of your rakes and shovels as well as smaller hand garden tools. You can keep one right next to your garden, so you have all the garden tools you need close at hand when you're gardening.

Pruning shears: A couple pairs of pruning shears in different sizes are useful items to have. While you may not use shears as tools for gardening very often, you can't grow a decent rose garden without a pair of quality hand shears to carefully prune back stems. Larger pruning shears are useful for trimming bushes around the yard or clipping low hanging branches from decorative or fruit trees.
What Do You Want to Do Next?

Shop for Yard Care Tools
Shop for Gardening Supplies
See All Home & Garden Products
See All Guides
Read More Garden & Patio Guides
Learn More about Yard Care