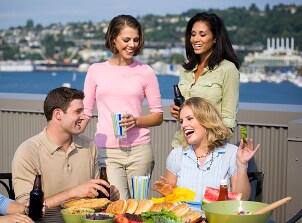 Throwing a party is a blast, but it can take quite a bit of work to keep the guests entertained, the food fabulous and the drinks flowing. If you love having parties, then consider investing in some new luxury appliances. Whether you're hosting pool parties with your teens or sharing new recipes with food-loving friends, these appliances will keep you and your guests happy.
Party Animal Kitchen Appliances:

Ice cream makers: Few things make a party as fun as sweet treats. Why settle for cartons of frozen concoctions from the grocery store when you can create fresh ice cream with any flavor combination? Get the younger party guests involved by having them take turns turning the crank or adding ice and salt to the machine.

Frozen beverage machines: A margarita or a glass of frozen lemonade by the pool will make your summer parties memorable. Blending frozen drinks can be time-consuming, so invest in a luxury frozen beverage machine. Many of these high-end appliances store the ice separately from the mixes, allowing you to choose from a range of programmable recipes. Some high-capacity beverage machines keep the blended drinks chilled until they are gone. Choose a frozen beverage machine with a dispenser to make children's parties a breeze.

Wine chillers: Forgetting to chill the white zinfandel before your guests arrive for dinner can be a huge headache. Having a wine cooler on hand makes it easy to serve wines at their optimum temperature, even if you are pressed for time. Many digital wine chillers have chill settings for red wine, white wine and champagne.

Chocolate fountains: If you want to be known for your delightful neighborhood parties, then start serving up warm chocolate by the handfuls. Chocolate fountains are fun for party guests of all ages, and they come in many sizes to sit on your buffet or patio table. Guests will love dipping fruit and candy in milk chocolate and white chocolate any time of year.

Portable ice makers: You always need ice. Rather than running to the store or to the kitchen every time you are running low, keep a portable ice maker by the pool or in the basement for easy drink refreshing. Portable ice makers produce ice quickly, some in as little as 10 minutes, and they are compact enough to go with you to the beach or to a tailgate party.

Buy Appliances
Back to Guides Directory