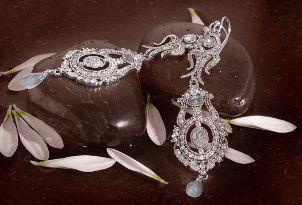 You're wearing your favorite 1960s-inspired dress and a pair of cute wedge sandals, but something is missing. Add just the right amount of color and shine with a shimmery new pair of chandelier earrings. Chandelier earrings get their name from their design, which mimics elaborate chandelier light fixtures. They may have tiers of sparkling, swinging gemstones or they may have layers of hammered gold medallions. Each chandelier earring style is unique and offers a bold splash of style. They go great with dresses but can also be worn with jeans and suits. To choose the perfect pair of chandelier earrings, consider these important features.
Aspects of Chandelier Earrings:

Colors: Some chandelier earrings are an investment, but even affordable pairs shouldn't sit in your jewelry box, waiting to be worn. Choose a pair that is versatile enough to go with many different outfits. If you mainly wear silver-tone jewelry, then a pair of gold chandelier earrings may not get worn very often. Two-tone earrings with yellow gemstones might be just the thing for your wardrobe, however. When choosing gemstones, select the hues that match your current jewelry and apparel collections.

Quality: Chandelier earrings have a lot of moving parts, so quality is an important feature. Handmade earrings are made with a high attention to detail, so they are good options if you are looking for sturdy jewelry. Durable metals, like sterling silver, gold, and platinum, are also good choices for chandelier earrings.

Comfort: Large drop earrings move a lot, so you'll want to make sure that they don't have a lot of unfinished edges or spiky embellishments. Backings should be sturdy, especially if the earrings are weighed down with a lot of gemstones and gold. Hooks are popular on chandelier earrings because they can anchor a lot of weight while allowing the jewelry to move freely.

Style: Some chandelier earrings have geometric shapes that give them an art deco feel. Other have free-falling multi-gemstone strands for a bohemian effect. Not all chandelier earrings will work with all outfits, so be sure to think about what outfits you need to accessorize and what holes you have in your jewelry wardrobe.

Buy Chandelier Earrings
Back to Guides Directory