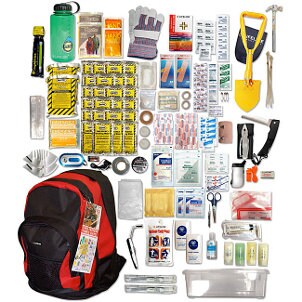 You never know when a disaster will strike, so it's important to be prepared. If you have these essential survival kits on hand, you'll be ready for any emergency. A little preparation can give you a lot of peace of mind.
Essential Emergency Kits:

Outdoor survival kits: Small enough to throw in a backpack with your camping gear or in the glove box of your car, these kits include basic emergency supplies, such as a water bottle, waterproof matches, high-energy food bars or drink powders, multi-tools, or a whistle. These kits are meant to sustain life for a short emergency, such as getting lost from a hiking group. If you camp or hike, make sure you have one of these kits ready to go with you on your adventure.

72-hour kits: These include everything you need to live through a disaster situation for three days. Pre-assembled 72-hour kits may be designed for two or three people, making them perfect for couples, roommates, and small families. Look for a 72-hour survival kit with an advanced first-aid kit, a hygiene kit (including hand sanitizer, pocket tissues, shampoo, toothbrush, and toothpaste), water bottles and high-energy food bars, lighting options (like hand-crank flashlights, glow sticks, and candles), warmth and shelter supplies (such as hand warmers and blankets), and emergency tools (like multi-tools, duct tape, dust masks, gloves, and a folding shovel).

Car kits: Automotive survival kits are as much about taking care of your car as being able to survive in it. In addition to the standard survival gear of first-aid kits, water bottle, all-weather blanket or poncho, and flashlight, these kits also include car care supplies that can help get you and your car out of an emergency situation. Look for one that includes heavy-duty jumper cables, screwdrivers, duct tape, cable ties, and a guide to general emergency car care. Automotive kits that include radios, mirror signals, or brightly colored fabric signs you can put in a window are ideal, as these extra supplies can help you flag down help or find out how bad the storm is. Having a 72-hour or basic survival kit in the car in addition to the automotive emergency survival kit will allow you to weather the toughest emergency situations.

Disaster-specific kits: Some emergency preparedness kits are designed with specific natural disasters in mind; for example, flood or tsunami emergency survival kits might include a waterproof bag or container to protect the basic survival gear inside, while a volcano emergency survival kit can include goggles and respiratory masks to protect your eyes and lungs from falling ash. In most cases, though, the best emergency survival kits for disaster situations will include the same basic emergency supplies of food, water, first aid, warmth, and a few basic tools. If you live in an area where floods, earthquakes, or tornadoes are common, look for a kit that has supplies just for your situation.
For More Emergency Preparation Tips:

Visit the Centers for Disease Control and Prevention at emergency.cdc.gov for more information about preparing for specific disasters and emergencies.

Buy Survival Kits
Back to Guides Directory