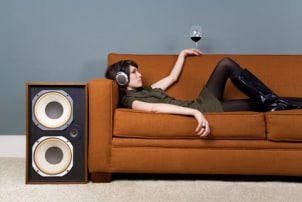 If you're lucky enough to have a comfortable basement, then you know how great it is to escape the world and relax without being bothered. Why should you ever have to leave your cozy little den? With the right gear, you can settle into your basement on Friday afternoon and stay until Sunday evening if you like. A kitchenette makes it easy to enjoy movie marathons, sporting event tournaments and the latest video games without having to take a break every time you need a soda or a fresh bowl of popcorn. Indulge with these essential appliances.
Basement Kitchenette Appliances:

A mini fridge: A mini fridge can transform your basement into an entertainment compound. Sodas and beers are suddenly chilled and at your fingertips whenever you get thirsty. Ice is always available and leftover pizza doesn't have to be carted back upstairs at the end of the night. If you love to host parties in your basement, then stash salads and desserts in your mini fridge and chill champagne for a luxurious movie night. An impromptu root beer float is always welcome after the new blockbuster or halfway through a marathon of your favorite television show.

A convection microwave: A microwave is essential in a basement kitchenette for popping popcorn and reheating leftover takeout, but a convection microwave takes it to the next level. Convection microwaves broil, roast and bake, so you can have toasted sandwiches, whole roasted chickens and fresh chocolate chip cookies without going back upstairs to the kitchen. Your next game night will take the cake when you serve warm cake right there in your basement.

A coffee maker: How are you going to make it through your gaming session without a constant supply of caffeine? Brew a cup of coffee or two without leaving your basement with a compact drip coffee machine. If your basement is the perfect spot to retire after dinner, then stock your kitchenette with a gourmet coffee machine and take the party downstairs for some brew and music.

Buy Appliances
Back to Guides Directory