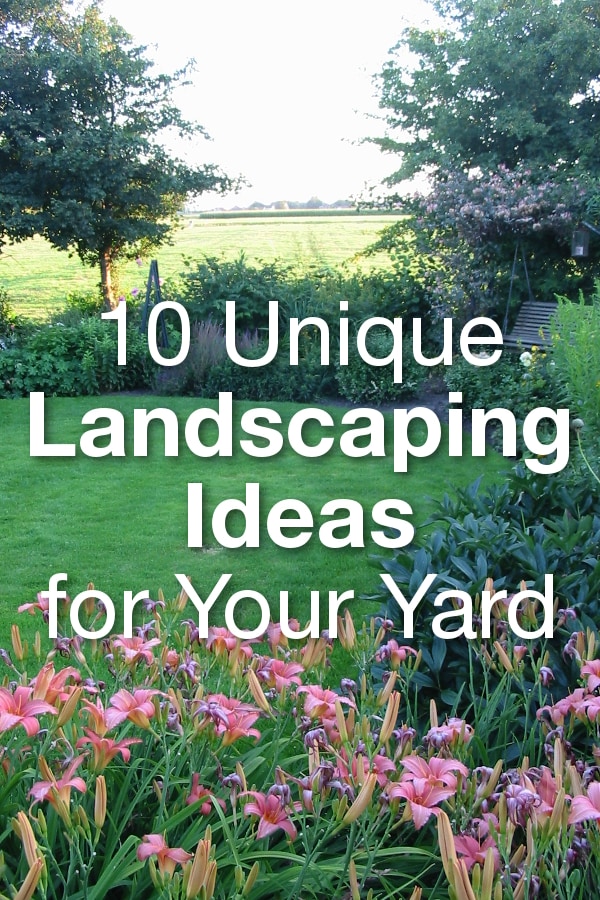 SHOP GARDEN & PATIO NOW >>
Outdoor living is becoming more and more of a focus in modern homes, and with the best landscaping ideas, it's easy to turn any size yard into living space. Moving beyond basic lawns and flower beds, landscaping your yard can make it beautiful and more useable for you and your family. Use these landscaping ideas to make your garden and patio a unique outdoor oasis.
10 Best Landscaping Ideas:

Round patios: The circular shape of these patios blends with nature, giving your garden more of a flowing shape. It's easy to fit a circular patio into a small space, and it's the perfect place for an outdoor bistro set. Use materials like brick, stone, or gravel to create your patio space.

Reclaimed materials: Choose recycled and reclaimed materials for an eco-friendly backyard. Reclaimed wood is a fantastic material for decks, patio furniture, and even the flower boxes in your garden. Use reclaimed brick, concrete, and stone to build and beautify your landscape.

Xeriscaping and rock gardens: Xeriscaping with low-water and native plants is a beautiful way to reduce water usage, and native plants will promote a healthy ecosystem in your yard. Reduce water and add intrigue by intermixing rocks with your landscaping as stand-alone rock gardens or as focal points in your flower beds.

Planter vegetable gardens: If you have limited space, you may want to consider growing vegetables and herbs in planters on your patio or even on a balcony. As you grow your food, you can also enjoy the beautiful look of the plants.

Infinity pools: These unique pools hide the rim of the pool under water, creating a beautiful effect for a swimming pool, pond, or reflecting pool. Infinity pools are a nice way to add water elements to your landscaping in an interesting design.

Add levels: Creating levels will automatically create visual intrigue in your yard. If your yard has naturally high or low spots, design your landscaping to highlight them. You can create levels by digging lower for sunken gardens and patios or building terraces and raised beds for your plantings.

Small hideaways: You don't have to let the corners of your yard go unused. Build small patios and gardens on the sides of your house, in forgotten corners, and in other small areas in your yard. You can set up a bistro set or chaise lounge and use the area as a private backyard escape.

Mixed plantings: Plant vegetables, fruit bushes, and herbs amid your flowers to conserve space and add variety to your garden. You can even use last year's compost pile to grow pumpkins, squashes, and watermelons.

Built-in fireplaces and pits: It's always nice to gather around a fire in the summer, and having a fire pit in the center of your patio is fun and visually interesting. An outdoor fireplace is a great option for a covered patio or the edge of a deck.

Front yard: The backyard is private and comfortable, but don't let your front yard go to waste. Make it usable by building small patios behind tall hedges. You can also use your front yard for your plantings, including vegetable gardens and small fruit orchards.

Shop Gardening Supplies
Shop Outdoor Decor
Shop All Garden & Patio
See All Guides
Read More Garden & Patio Guides
Learn More about Yard Care
Published November 21, 2011
Updated April 6, 2015