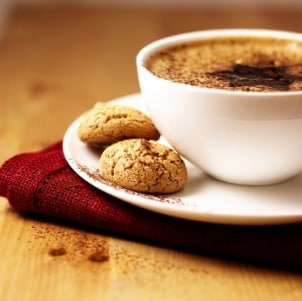 Are you looking for new ways to use Torani syrups? Whether you want creative drink specials for your restaurant or an unusual beverage for a dinner party you are catering, you can use Torani flavored syrups to concoct something delicious. Many people have added chocolate syrup to espresso and milk to make a cafe mocha. Peach and raspberry Italian sodas are cafe staples. But what do you do with watermelon syrup? When you try these simple yet innovative drinks using Torani products, you'll impress your customers and keep them coming back.
Try These Torani Recipes:

S'more, Please: Start by making a traditional cafe mocha, which is one part espresso to two parts steamed milk with an ounce of chocolate syrup. When you add an ounce of toasted marshmallow syrup, you'll have a sweet treat that will have everyone asking for "some more."

Sweet Surprise: When granulated sugar is stirred into an iced coffee, it often leaves a sludgy mess at the bottom of the cup. Torani has a solution with their cane sugar sweetener. Add 1 ounce of it to 8 ounces of iced coffee, and the "surprise" is that the sweetener fully dissolves in the cold drink. Use the same proportion to make sweetened iced tea.

Vermont Vacation: Perfect for fall, this drink celebrates the best of this New England state. Simply add 1 ounce of Torani maple-flavored syrup to 8 ounces of steamed milk. Add a shot or two of espresso, if desired, and pair the drink with a maple doughnut. For an extra treat, add one-half ounce of bacon-flavored Torani syrup.

Nuts about Brandy: Try adding this grown-up milkshake to your dessert menu. This recipe will serve six. Blend 1 pint of vanilla ice cream, 1 cup of crushed ice, 2 ounces of brandy and 3 ounces of butter pecan syrup. Serve in a martini glass with a candied pecan as a garnish.

Ginger Snap Snap: In Scandinavia, a "snap" refers to a shot of vodka or aquavit imbibed during dinner. This modified snap is sweet enough to wait for dessert. In a cocktail shaker, combine ice, 3 ounces of vodka and 1 ounce of Torani ginger syrup. Shake and strain into a martini glass. Garnish with a twist of lemon.

Screaming Monkey: Torani puree blends simplify adding smoothies to your menu. Blend 2 ounces of their banana puree, 1 ounce of chocolate syrup, 4 ounces of milk and 2 cups of ice until smooth.

Square Watermelon: A granita machine -- a reliable income source during summer months -- gives this frozen treat its name. Combine three 25-ounce bottles of watermelon syrup with 2 gallons of water. Give it about an hour in the machine to get cold and slushy before serving.

"Framboise" for Fun: Fruit-flavored steamers (steamed milk with syrup) can curdle if the syrup is not steamed gently with the milk. Torani has a solution with their dairy-friendly syrups, which you can add after steaming the milk (although, it doesn't hurt to still steam the syrup with the milk). Try an ounce of dairy-friendly red raspberry syrup mixed into 8 ounces of steamed milk. ("Framboise" is French for raspberry.)

Skinny Snickerdoodle: Be sure to include a sugar-free treat on your menu. In a cup, stir together 1 ounce of sugar-free white chocolate sauce and one-half ounce of sugar-free brown sugar and cinnamon syrup. Top with steamed nonfat milk or ice and cold nonfat milk. To make it a coffee drink, add two shots of espresso before adding the milk.

Peanut Butter and Jelly: A classic cafe latte -- one part espresso to two parts steamed milk -- goes to the lunchroom with peanut butter-flavored syrup and the fruit syrup of your choice. Add it to a lunchtime menu to give customers a midday boost.

Buy Torani Syrups
Back to Guides Directory