Zodiac Style: Taurus
Posted at Apr. 29, 2013 at 3:18 PM

This year, we're taking our fashion inspiration from the signs of the zodiac. We started off with the first sign, Aries, and now we've moved into the second sign in the zodiac, Taurus.
The sign for Taurus is the bull, but that doesn't mean that Tauruses are bull-headed. People born under the sign are known to be determined, balanced, and patient. A Taurus loves a challenge, but also enjoys those calm, peaceful moments in life and finds the greatest strength from stability.
We're looking to that calm balance of the Taurus to get a touch of soothing style inspiration for spring. If your birthday falls between April 21 and May 22, you are a Taurus, and now is your time to show your sense of style with some perfectly suited fashion choices.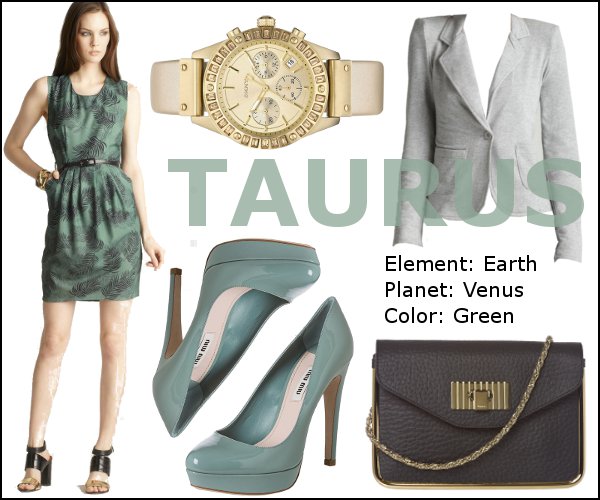 Taurus' element is earth, and its ruling planet is Venus. These two forces combine to create that sense of peace and stability that Tauruses thrive on, but it also gives us some insight into the best Taurus-inspired styles to flaunt this spring. Being an earth sign, Tauruses are down-to-earth and traditional, making fashion basics and classic styles their best wardrobe pieces. A basic blazer and understated designer handbag are staples of a Taurus closet and can be paired with outfit after outfit, day to night. Fill your closet with timeless pieces and tried-and-true styles; then add just a touch of bold, trendy accents here and there, like an oversized gold watch or a look-at-me necklace.
People born into an earth sign find power through wearing earth-tones, especially green, and the ruling planet, Venus, gives them a love for natural beauty. Keep it simple and sophisticated in this lightweight printed dress. It's the perfect piece to wear throughout the spring and summer, with its luscious green-on-green botanical print. Pair it with heels in a similar color, like these teal patent pumps from Miu Miu for an effortlessly refined look.
We're in the sign of Taurus for nearly a month, making right now the perfect time to show off your sense of style. So whether you're a born Taurus, or just a Taurus at heart, these springtime style inspirations are for you! What is your favorite springtime item in your wardrobe?
Posted by Andrea Sparks