Zodiac Style: Leo
Posted at Aug. 2, 2013 at 9:34 AM

Between July 23 and Aug 22, Leos are in their prime. This sign, symbolized by the lion, is one of the most lively, attention-grabbing signs in the zodiac, as are those born under it. Leos live in the moment. They're energetic, youthful, creative, and have a strong sense of individuality. There's no denying that Leos have vibrant, strong personalities and their style should follow suit.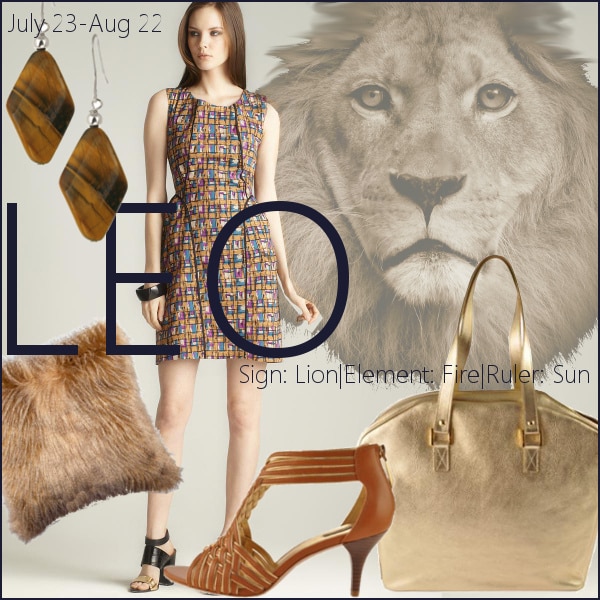 Like its ruler, the sun, Leo loves to be the center of attention, but not without an element of sophistication. Use this subtle contrast to your advantage and pick something classic and refined in a look-at-me print, like this geometric-print dress. This ultra-chic frock (I absolutely love the shape) makes a big statement without being over-the-top, and all you need are a few simple accessories, like these tiger-eye earrings (hey, it's still in the big cat family) and a pair of simple strappy heels.
If the sun isn't hot and radiant enough, know that Leo's element is fire. It guides your energetic, creative side and really makes you shine. Show off your radiant personality with an equally bright handbag. This metallic gold shoulder bag is an absolute must-have for all Leos (Leos at heart included)!
Of course, your style doesn't extend to just your wardrobe. Show off some summery, Leo-inspired styles in your home, too. This faux-fur throw pillow is as soft and cuddly as a lion's mane, but without all the teeth and claws, and a majestic lion canvas print hanging on your wall is the perfect way to display your lion pride (it's also one of Snoop's Picks).
If you're a Leo, now is the time to show off your style. What's your favorite look to rock in the summertime? Need a little more lion love? Check out some styles handpicked by Snoop Lion himself in our SnooperMarket! And, of course, don't forget some of the other zodiac styles we've featured (so far, we've covered Aries, Taurus, Gemini, and Cancer), and be sure to watch for more to come.
Posted by Andrea Sparks