Zodiac Style: Gemini
Posted at May. 31, 2013 at 9:43 AM

The sign of the Gemini is the twins, and Geminis exhibit a certain degree of a dual nature themselves. They easily change from one interest to another and back again. Some see it as fickle, but for the energetic Gemini, they're simply living life to its fullest.
It's fitting that the third sign of the zodiac falls between May 20 and June 21, when spring is shifting into summer and change is in the air. This dual nature and balance of opposites gives us our style inspiration for the month.
If you're a Gemini yourself, try some of these styles to bring out both sides of your personality. For those of us born under a different sign, these looks are the perfect way to capture the lively, radiant energy of the Gemini during this time of year.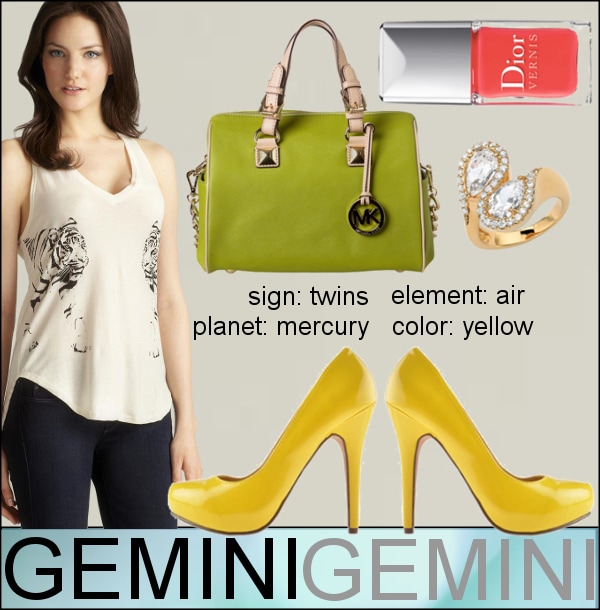 Two is better than one, and for the twins of Gemini, this mirrored tiger tank will have you seeing double. One of your qualities as a Gemini is versatility, so play off that trait and pair the shirt with jeans for a casual look or dress it up with a blazer and pencil skirt to show off your more sophisticated side.
Your ruling planet, Mercury, is the fastest planet to move around the sun and has a dual nature of its own, with one side bright and hot, and the other cool and dark. Balance your own yin-and-yang nature with this double-gemstone bypass ring you can wear to flaunt your Gemini style all year long.
Aside from their changeable nature, Geminis are said to be curious, outgoing, youthful, and lively. Your best color is yellow, and these bright yellow pumps perfectly reflect your radiant, playful personality.
You're not just stuck with yellow, however. Anything lively, fresh, and vibrant is sure to suit you, so take advantage of the warm weather and pile on the brights. Rock your yellow pumps with a bright green Michael Kors tote and coral-orange nail polish from Dior. Mix it all up with some florals and eye-catching patterns to wear throughout the summer.
How would you show off your Gemini style?
Don't forget to check out our other zodiac-inspired styles, Aries and Taurus, and don't forget to check back for more sign style! What is your sign?
Posted by Andrea Sparks