Zodiac Style: Aries
Posted at Apr. 11, 2013 at 3:38 PM

There are 12 astrological signs throughout the year, and each person born under a certain sign is said to have specific characteristics. This year, we're taking our style inspiraition from the signs of the zodiac and the characteristics of each. We'll start with the current sign, which just so happens to be the first sign of the zodiac: Aries, the ram.
Aries are known to be energetic, independent, passionate, creative, and intelligent. If your birthday falls between March 21 and April 19, or maybe you're just looking to pick up a little style inspiration from this side of the zodiac calendar, these bold, vibrant looks are well-suited to the lively disposition of the Aries.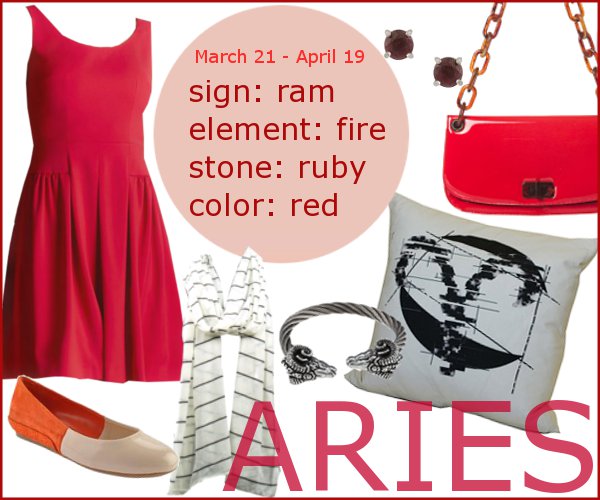 Aries are said to have an impeccable sense of style, and their outgoing, creative side makes them unafraid to take chances and use fashion to catch everyone's attention.
It goes without saying that bright, look-at-me colors suit fashionistas of the first sign, but red, specifically, is the lucky color of the sign of Aries, not to mention that its element is fire, its ruling planet is the red planet, Mars; and Aries' stone is the dazzling red ruby. That means that for all the Aries out there, this spring is your time to paint the town red. You'll find power and confidence in all shades and variations of the hue, from rosy-pinks to fiery red-orange.
Your best friend this spring is a basic bright red tank dress. Its red-hot hue is the perfect shade for an Aries' ambition, but the dress is simple enough in design that it begs to be accessorized. Get creative and pair it with everything from a fresh spring scarf and eye-catching designer bag to a chic belt, ballet flats, and an attention-grabbing hat (rams rule over the head, so flaunt your noggin' with hats and other head accessories).
Don't underestimate the power of a few perfectly picked jewelry pieces in your Aries look. This ram's head bracelet is a less-than-subtle way to flaunt your sign, while a simple pair of ruby stud earrings adds a dash of deep red dazzle to all your looks. Your lucky stone is, after all, rubies, so use this as an excuse to buy yourself a bauble or two featuring this bright red gemstone.
Are you an Aries baby? Right now, the sun is in your sign and it's your time to shine. You're creative, passionate, and full of life. How do you flaunt your bold sense of style?
Posted by Andrea Sparks