Yes, We Have No Bananas
Posted at Feb. 1, 2011 at 12:49 PM

When it's cold outside, few things sound better to me than freshly baked goodies. Heating up the oven, smelling the hot scent of vanilla and sugar, eating warm cookies or bread: It's enough to make me crave a snow day. Over the weekend I experimented with banana bread; it satisfied my need for treats without (completely) eschewing the idea of healthy eating. Bananas are bright and colorful, a bonus on a dark day; plus, they're full of potassium -- and they're delicious. What's not to love? And every baker knows that banana bread is the best use for bananas that may have sat on the counter a few days too long.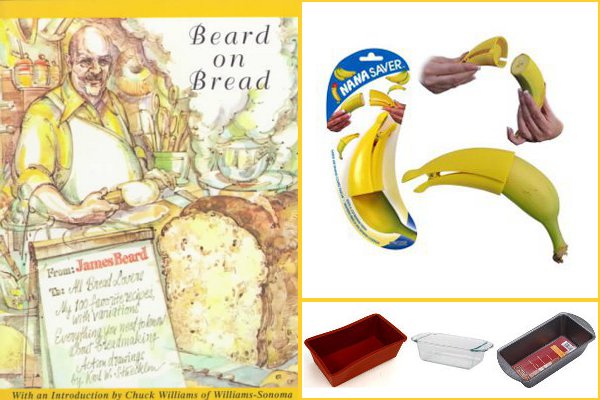 I followed a banana bread recipe from Beard on Bread; it was simple and relatively quick as far as bread goes. Banana bread has the advantage of not needing kneading. You can combine the ingredients, pop it in the oven, and forget about it until you're ready to pull it back out. I've baked in both glass and metal bakeware, and I'd like to experiment with the new silicone bakeware and see what happens.
Beard includes another banana bread recipe in the book as well as recipes for an assortment of sweet, savory, and traditional breads. Buy the book and check them out. They're all delicious. And if you feel like sharing a recipe, a baking tip, or a bread story, feel free to do that, too.
Posted by Jessica Gezon