World Fashion Tour: Tokyo
Posted at Jan. 23, 2013 at 4:51 PM

Did you know that Tokyo is the largest metropolitan area in the world? That makes for a lot of fashion potential. In fact, Tokyo is quickly becoming a big fashion capitol alongside the likes of Paris, London, New York, and Milan. Its rich tradition in fashion, from traditional kimonos to Harajuku street style, puts it right in the center of the style scene. Even some of the most eclectic trends of the Harajuku district are going mainstream and even being replicated in designer fashion. After all, it's hard not to love those bright, punchy colors, not to mention that sorbet hues are being touted as the big look for spring 2013.
You don't have to fly to Tokyo to rock some Japanese street style, nor do you have to go full cosplay-cutie to mix a little Harajuku flair into your look. Capture a touch of Tokyo at home with these vibrant picks inspired by the bustling Japanese capital.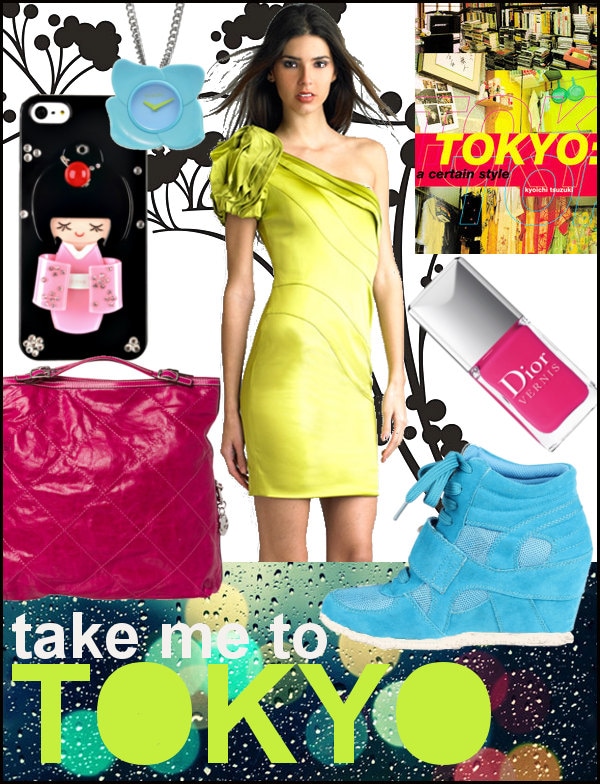 First up is this amazing one-shoulder dress from Issue New York. Its bright citrus shade is right in line with the lively Tokyo scene, and the ruffled sleeve reminds me of an intricate origami sculpture. It's perfect for a night out in the city, especially under the neon lights of Tokyo's city center.
For just a touch of Tokyo style, mix some saturated Harajuku hues into your look with bright accessories. For starters, these wedge sneakers are super street-chic. Wedge sneakers are really hitting their stride in the trend scene, and the bright blue hue (they also come in orange) gives them that Tokyo touch. Pair them with this matching flower-shaped Nixon watch necklace and hit up your favorite sushi joint.
Of course, you don't want to stick to just one look-at-me shade. Mix blue, green, orange, or yellow with vibrant pink for an eye-popping look. This oversized leather bag packs a lot of pink, and this Dior nail polish adds a pop of color to your fingers. In fact, the polish is even named "Kimono Pink." It's the perfect shade to wear when you're texting away on your iPhone with this adorable Kimono Girl case. The pink-clad geisha even slides to reveal a hidden compact mirror underneath!
You can start mixing some bright accessories into your wardrobe now to add a little heat to the cold winter days, but don't be afraid to rock more than one (or two or three) of these hot hues come spring. Stores are already starting to stock up on bright shades of yellow, mint green, and sherbet pink. You'll be right in style when the weather warms up!
What do you think of when you hear the words "Tokyo style"? How would you rock a little Asian-inspiration in your own look?
Posted by Andrea Sparks