World Fashion Tour: Spring Break
Posted at Mar. 15, 2013 at 1:37 PM

The days are longer, the sun is brighter: Springtime is in the air! To round out the year of fashion inspiration from around the world (we started last March with a touch of springy Parisian style), let's take a trip to everyone's favorite springtime escape: spring break!
These splashy, flauntable styles take you effortlessly from the street to the beach and back again with some of the season's biggest trends. Whether you're heading to Cabo, the Hamptons, or planning to soak up the sun during your own weekend staycation, catch spring fever with a few of these fresh, bright picks: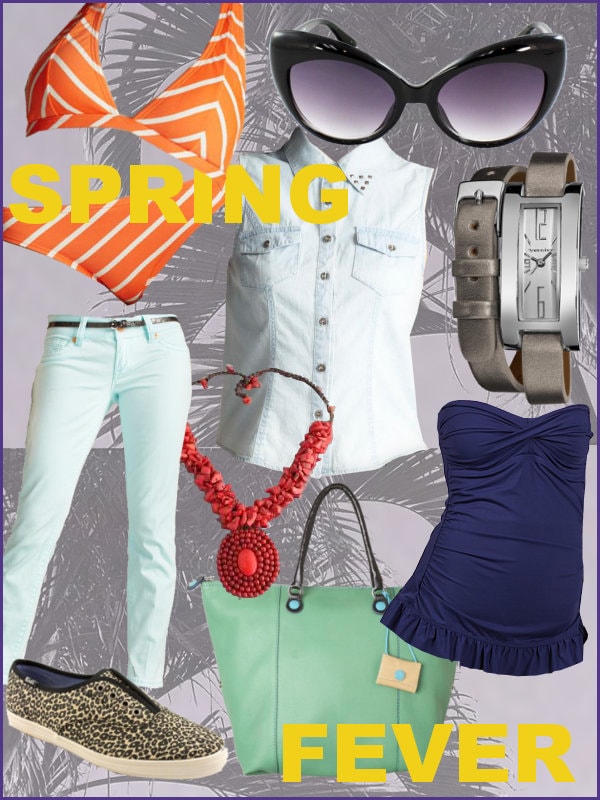 First things first, every spring break getaway needs a chic swimsuit. This Juicy Couture bikini doubles up on hot springtime trends with its punchy bright color and chevron-like stripes. Pick up the cover-up, too, to look extra chic on the beach. Sampling from another of spring's big trends, this skirted one-piece plays on the peplum trend in a universally flattering shape. Make a splash at the beach or local pool, or even just soak up some rays in your backyard, with one of these cute suits.
Of course, you'll need some chic street style for an afternoon of sight-seeing or hitting up the local night life. Colored skinny jeans are still making waves this season, and these cropped skinnies are the perfect shade of pale blue. Pair them with a lightweight blouse and printed Keds for daytime; then swap the blouse for a sexy tank and bright coral necklace for the evening. You can even try the denim-on-denim trend and wear this studded-collar chambray shirt with your favorite pair of skinny jeans.
Some of the season's hottest trends are all about the accessories, and there are a few styles you can flaunt on the boardwalk, on the beach, or at a weekend brunch with friends. Up first is the bright statement bag: This mint number adds a pop of color to your look in this year's hottest hue. All that spring sunshine means you'll need a stylish pair of shades, and cat-eye is the look of the moment. They're a little bit retro and perfect for your spring fling. Round off your look with a trendy metallic wrap watch. It comes with interchangeable bands so you can change up your look. Wear it alone or layer it with bracelets all season long.
Are you headed anywhere exotic for spring break this year? What styles are you planning on packing? If you're staying home, how do you make the most out of spring?
Did you miss out on some of our previous picks from the World Fashion Tour? Get inspired by locales like London, Cairo, Tokyo, and even some in our own backyard, or take a tour around our fashion blogs and see what sparks your sense of style.
Posted by Andrea Sparks