World Fashion Tour: Salem
Posted at Oct. 24, 2012 at 1:00 PM

With Halloween coming up fast, there's no better place in the world to get a little festive fashion inspiration than Salem, Massachusetts. This small seaside town became famous for the Salem witch trials of 1692, and today, the town fully embraces its bewitching history. Even the local elementary school is named Witchcraft Heights. You don't have to don a pointy hat and ride a broomstick for this witchy ensemble. Get spooky with these chic pieces for your own Salem-inspired autumn look: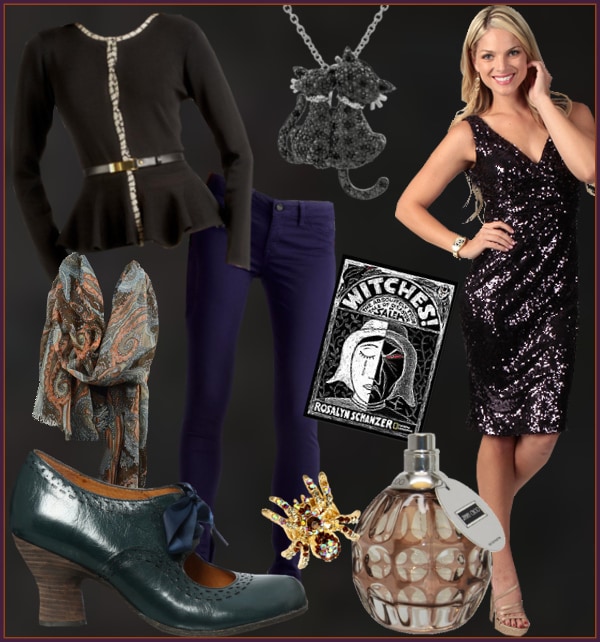 The best part of this witchy wardrobe is that you can incorporate so many current trends. For a spellbinding daytime look, rock the colored denim style with a pair of perfectly purple skinny jeans paired with a trendy peplum top. This belted peplum cardigan creates a spellbinding silhouette, and the beaded snakeskin trim is the perfect touch for Halloween.
While you're getting all witchy, don't forget your feet! These Mary Jane pumps flawlessly complete your wicked ensemble. On top of the witchy shape and cute ribbon tie, I absolutely love the deep teal color. After all, if there's any time to rock the jewel tones, this enchanting fall look is it. The shoes are also available in this season's hottest, and creepily named, color: oxblood.
Whether you're headed to a formal Halloween fete or a night out on the town, nothing casts a spell like this dazzling sequined plum dress. Sleek and sparkly, this bewitching number is hard to take your eyes off of. Accent it with some creepy, crawly accessories, like this crystal spider ring featured on Style Goes Strong. It's just the right touch of spooky fun for an enchanting October evening.
Of course you need a black cat, and this delightfully dark black cat necklace has two for double the trouble. Speaking of trouble, no self-respecting witch would go out on the town without her bottle of love potion. This perfume from Jimmy Choo may be as close as you get to the real thing. Its enchanting blend of tiger orchid, toffee, and patchouli is sure to completely captivate your date.
Are you ready to get your witch on? Is there another city you'd love to visit for a little Halloween-inspired fashion?
Posted by Andrea Sparks