World Fashion Tour: Paris
Posted at Mar. 12, 2012 at 1:18 PM

Is there anything more charming than Paris in the springtime?
Just imagine it: sightseeing at the Eiffel Tower, hobnobbing on the Champs Elysees, strolling the quaint streets of Montmartre, all while the city of lights is in full springtime bloom.
Sadly, the closest I'll get to French capital anytime in the near future is to watch Amelie again (for possibly the 12th or 13th time) or maybe check out Midnight in Paris this weekend. So, if you're like me and a trip to France isn't in your plans (or budget) this year, why not capture a touch of Parisian charm here at home with a little Parisian-inspired style?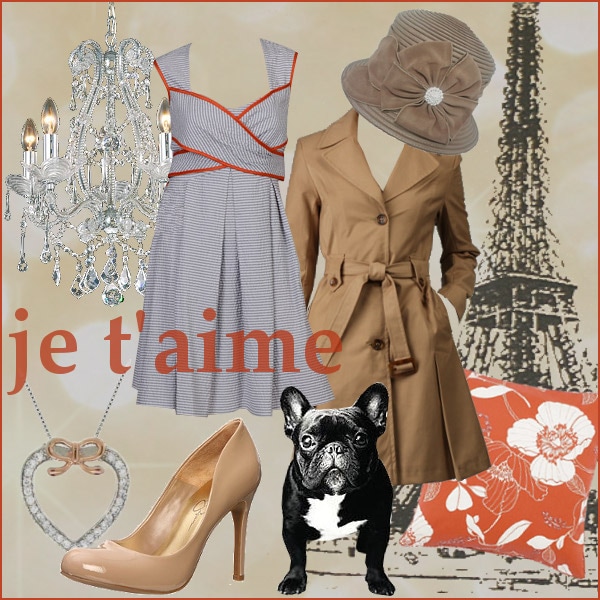 Paris may be the one of the world's biggest fashion hotspots, but my take on Parisian style focuses on the effortless elegance every Parisian, young or old, seems to have. Dressing well just comes with the territory, I guess, when you live in one of the most beautiful cities in the world.
Do fashion the French way and opt for a no-fuss, fresh new dress. This seersucker day dress has a distinctly easy, retro style to it, but with touches of tangerine to bring it right into 2012's biggest color trend. Keep the rest of your look simple with a classic trench and nude pumps.
Of course, Parisians are known for taking their dogs everywhere. In fact, dogs are just as much in vogue as the hottest designer wares. Pay homage to the Parisian way of life and pick up a copy of Frenchie Kisses for your coffee table. An Eiffel Tower pillow would look great on your sofa alongside these cute poppies, and a glittering crystal chandelier is so very Versailles.
What comes to your mind when you think of Parisian style? Are there any faraway destinations inspiring your wardrobe lately?
Posted by Andrea Sparks