World Fashion Tour: National Parks
Posted at Jul. 13, 2012 at 2:29 PM

What better way to celebrate fashion than to bring it home for the month of July? At this time of year when we celebrate independence and all things American, I'm looking to one of my favorite things about America for my fashion inspiration: the National Park Service.
The NPS is dedicated to conserving and celebrating the most beautiful and unique ecosystems of our country -- and you can't help but fall in love when you visit a national park. So here are a few looks to fall in love with, too, each inspired by some of the most famous and popular national parks across America.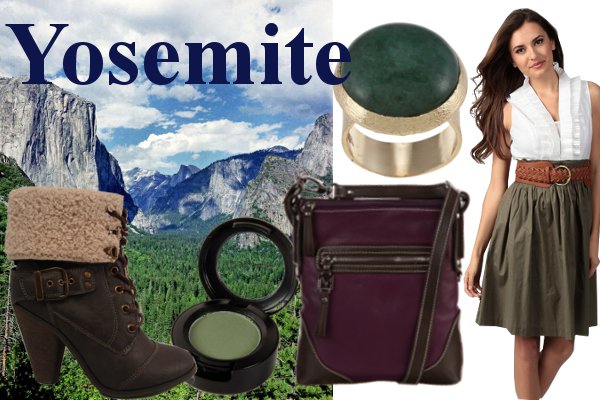 Starting way out west, this look is inspired by the forest landscapes, rocky cliffs, and breathtaking waterfalls (including the tallest in North America) of Yosemite National Park. This twofer dress from Jessica Howard is about as woodsy and carefree as dresses get. Wear it with a deep green ring to reflect the cool hues of Yosemite's dense, shady forests. Whenever I think mountains and woods, I think boots, and these lace-up ankle boots perfectly fit the bill.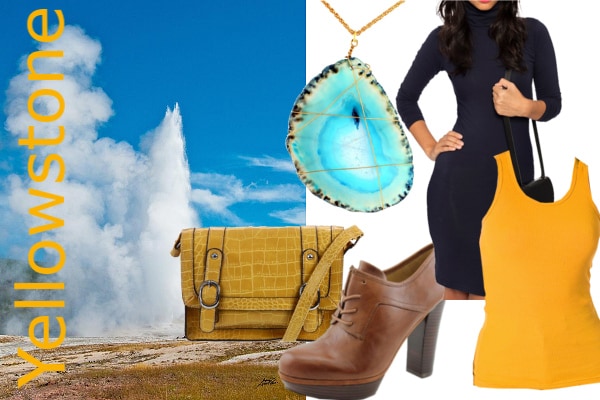 Next up is the nation's oldest and best known park, Yellowstone National Park. With landscapes that range from deep forests to open meadows, plummeting waterfalls to erupting geysers, Yellowstone is full of awe-inspiring sights. I absolutely love the way this stone slice necklace looks like you're gazing down into one of Yellowstone's colorful hot springs. Of course, you'll need some yellow in your Yellowstone look. This basic tank is perfect for layering and matches this bright yellow bag.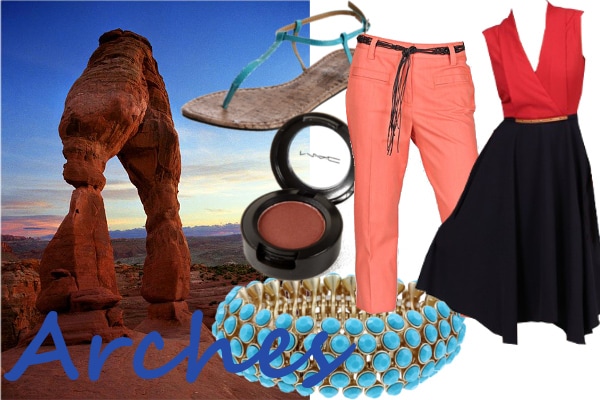 Almost due south of Yellowstone is Arches National Park, one of a cluster of national parks in Southern Utah. One of the things that are most breathtaking about Arches, aside from over 2,000 natural arches, is the striking color contrast between red sandstone and clear, azure sky. That's exactly where I drew inspiration for this look. Either this amazing colorblock dress or these melon orange capris would look incredible with bright blue accessories, like a bold turquoise bracelet.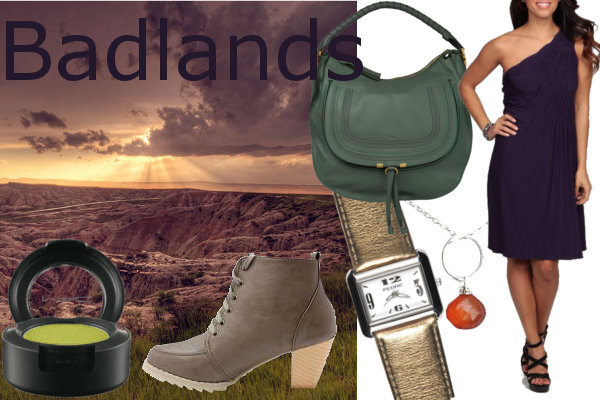 Badlands National Park in South Dakota may not sound that appealing, but the vast array of colorful buttes and grasslands creates a picturesque setting of vivid color. The rocks themselves range from deep blackish purple streaks to soft, sandy pink. This plum dress reflects the stone's darker hues, while an orange drop necklace and dusty green handbag emulate the park's other striking features and bring balance to the look.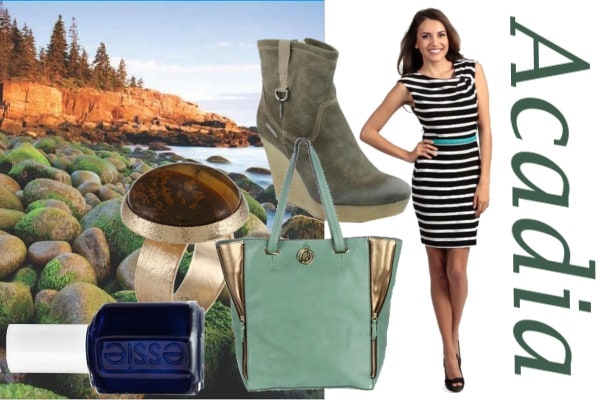 Acadia National Park in Maine is the oldest national park east of the Mississippi. One of the most striking features of its Atlantic Coast location is the combination of mountains, forests, and ocean shoreline. This striped Calvin Klein dress certainly evokes an East Coast nautical style, while these suede wedge boots have more of a woodland feel. To bring the two together, I love the greenish hue and golden touches of this tote bag.
There are 58 national parks in the United States, each with its own unique ecosystem and striking landscape. Which one is your favorite? Which ones do you want to visit?
Posted by Andrea Sparks