World Fashion Tour: London Calling
Posted at Jul. 25, 2012 at 5:15 PM

A lot of attention has been focused on London lately. We had the wedding of Prince William and Kate last year, Queen Elizabeth's Diamond Jubilee in June, and now London is hosting the Summer Olympics. There couldn't be a better time to be in London, it seems.
Whether you're headed across the pond or you're planning on watching the games and dreaming of Britain from home, here's a touch of London style to get you in the mood.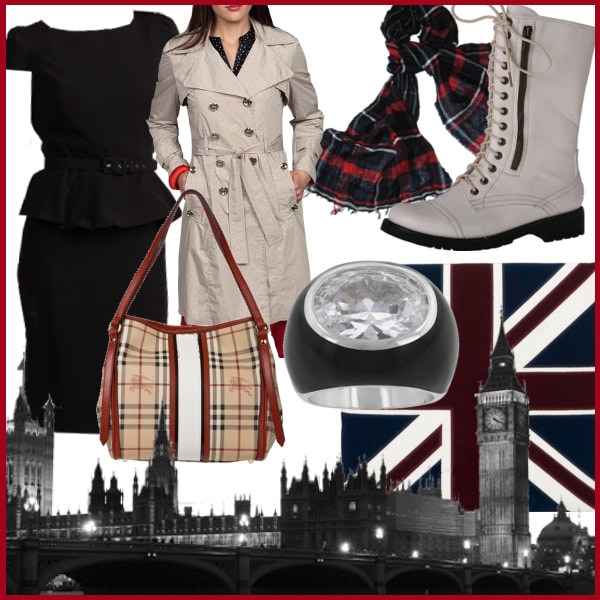 First things first, you'll need a chic, fitted trench coat. London is notorious for rainy weather, even in the summertime. This trench from Calvin Klein has a subtle, tonal leopard print to give it a bit of a modern edge. If it's rainy and cool, wrap up in this lightweight linen scarf to keep dry. Or just throw it on for a night of Sherlock with tea and cake on your sofa. Kick your feet up on a Union Jack ottoman and enjoy those beautiful British accents.
London is all about classic, posh style. So of course you're going to need to look polished and put together. I absolutely love this peplum skirt suit. It's a little bit Mad Men, a little bit Twiggy, and perfect for any lovely London affair. Plus, since it's a two-piece, you can mix it up and wear the pencil skirt with an airy blouse in the evening and the peplum top with a pair of brightly colored skinny jeans during the day. Rock all your looks with a giant cocktail ring and you'll feel as fancy as the queen herself.
Of course, we can't talk London without talking Burberry. I absolutely swoon over anything in their lovely, lovely plaid. This signature Haymarket handbag sits squarely at the top of my wish list. It's just the right size and will perfectly match all the Burberry clothes I've been dreaming of.
London has such a rich fashion history; there's something for everyone. You can't pass up London punk style, and I love these delightful white combat boots. They're a twist on the London punk classic in a soft, more modern hue. After all, if there's anywhere that punk style will live forever, it's in London.
What iconic London style is your favorite? How would you blend a little London fashion into your own wardrobe?
Posted by Andrea Sparks